I'm delighted that the Tufts University Chaplaincy has recently hired Walker Bristol, a longtime NPS contributor and good friend of mine, as their part-time Humanist in Residence. Chris Stedman reports:
Five years after a group of atheist and agnostic students launched a campaign to get a Humanist chaplain at Tufts, the university has created a new Humanist staff position—the first of its kind in the United States.

The Humanist in Residence, a new staff member of the Tufts University Chaplaincy dedicated to supporting atheist, agnostic, and nonreligious students, is the first university-funded Humanist staff position in the U.S.

While there are Humanist chaplains working at universities like Rutgers, Columbia, and American, those chaplaincies do not receive funding from their respective universities, making Tufts the first to create and fund a Humanist support staff.
Click through to Chris's full piece to read his interview with Greg McGonigle, an ordained minister in the Unitarian Universalist Association and a University Chaplain who pushed to create this position.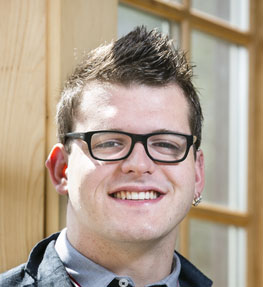 Bristol had the following comment to share:
People who don't identify with traditional religion still have their own journeys and stories to tell, and it's my passionate to find new and progressive ways to explore those stories. Through NPS 2.0 and this new opportunity at Tufts, I'm excited to be able to share and live out my values of compassionate Humanism, alongside friends new and old.
This fall, Tufts University will be hosting university chaplains from across the country at the annual meeting of the Association for College and University Religious Affairs (ACURA).