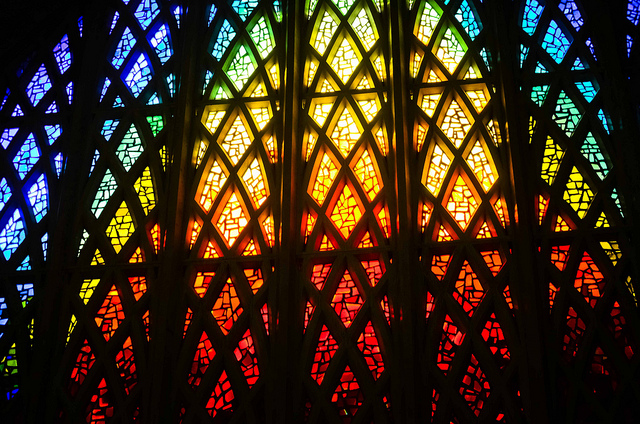 Editor's note: In response to the debate sparked by this piece, Wendy has written a follow up post titled "Yes, Atheists need closed spaces too." Read it here.
I'm an atheist, but I feel more comfortable around believers. This might seem strange to you. It did to me too, for a while. But once I realized my calling, it made perfect sense.
I realized that I wanted to spend my life advocating for atheists, working to remove the fear and prejudice that often surrounds them. And that achieving this goal would not come from a one-sided pursuit. My path on this journey would rely intimately on building relationships with religious communities and individuals. This means that when I'm with believers I campaign for atheists, and when I'm with atheists I campaign for believers.
The key difference between these contexts is that when I'm among religious people, I am speaking for myself—and by extension my community. It is one thing to point to studies showing that anti-theists actually constitute a small minority of the broader atheist community. But I believe it is more powerful to demonstrate this reality through showing up and seeking genuine relationships with religious people.
When I am in atheist circles, though, I have to speak for other people. I have to translate my experience of the welcome I have felt from so many religious people into anecdotes. It is hearsay. What I say to atheists does not have as much power. My words and illustrations are easily blown off as ramblings of a naive idealist.
This summer, I attended three conferences that serve as good illustrations of the different circles my mission takes me to: The Amaz!ng Meeting, Foundation Beyond Belief's Humanism at Work conference, and the North American Interfaith NetworkConnect conference.
The Amaz!ng meeting (TAM) describes itself as "the leading conference in the world focused on scientific skepticism." A popular event at TAM was the Million Dollar Challenge where an applicant attempts to prove a paranormal phenomenon for a possible million dollar reward. With over a thousand people having attempted the feat, the prize has not yet been claimed.
I was at TAM not as an attendee, but as a representative of Foundation Beyond Belief (FBB), as I had recently returned from Pathfinders Project—a global humanist service year. At TAM, my degree from a divinity school and cooperative work with religious believers was met with more derision than curiosity. Several people, though not everyone, questioned why I would bother studying religion when there are much more productive avenues I could explore.
I met with atheists more focused on service and community at Humanism at Work. That conference focused "on how nontheists can put their compassionate humanism to work for a better world." I spoke on a panel about 
my time
 with Pathfinders Project. I discussed some of the many and varied interfaith moments we encountered on our journey and how important they were to its success.
In contrast with the attendees at TAM, my interest in forming relationships with religious people was shared by most of the people I met at this conference. I did not need to make my interfaith pitch to this gathering of atheists. They were already on board and discussing how to bolster relationships—why was already resolved.
I also spoke on a panel at NAINConnect—this time representing humanism among several traditions that work in interfaith contexts. Here, rather than describing my experiences with believers, I described why my beliefs as a humanist lead me to social justice and interbelief work. While many of the attendees here were unsure of how to include humanists in their interfaith work, most were accepting of my presence in their midst.
I was not an outsider at any of these events. Despite some disagreement, at TAM I am a fellow atheist. At Humanism at Work I am a fellow humanist. And at NAINConnect I am a fellow interfaith activist.
In a religious context, though—at religious services I've attended at the invitation of friends, the women's study group I joined to discuss the historical foundations of Islam, or during the two years spent at divinity school–I often am the outsider. Nonetheless I feel more comfortable since my voice is louder and stronger.
There is power in speaking as a religious outsider. Therefore, I would love to see more religious people showing up in atheist settings too. I want atheists and believers to better recognize each other's humanity, and ambassadors are more effective than spokespersons. I am doing my best to be an effective humanist ambassador. The atheist community sorely needs religious ambassadors to atheist communities. I need my counterpart in atheist circles.
Of course, some religious people are already reaching out to atheists and nonreligious communities. They are proving that not all religious people fear and despise atheists. I recognize that this can't be easy. Atheist circles can be hostile environments for religious believers. Many atheists react extremely negatively to other atheists who aren't sufficiently anti-religious; it's hard to expect they'll treat religious believers any better.
I'm not suggesting that simply showing up is enough to sway the diehard anti-theist. But not showing up will certainly not change anything. Showing up—showing us your compassion and willingness to engage—might just be the catalyst we need for change. That is why I show up in religious circles, and that is why I ask more religious people to go out of their way to seek engage with nonreligious people on their own terms.