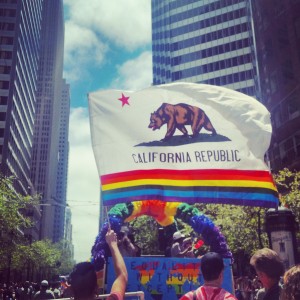 If you are anything like me, last Friday's SCOTUS ruling on marriage equality completely overwhelmed you. Tears of joy were present with me throughout the day. Since not all NonProphet Status readers live in a city quite like San Francisco, where Pride is celebrated in a very major way, I thought I'd take this opportunity to share a few photos from my weekend. Every year, the secular communities of the San Francisco Bay Area come together to march as a large contingent in the LGBTQI Pride parade. We marched in support of our family members, friends, neighbors and anyone whose rights have yet to be fully recognized by the U.S. government and our broader world community. (For those who may be wondering, LGBTQI stands for Lesbian, Gay, Bisexual, Trans, Queer, and Intersex.)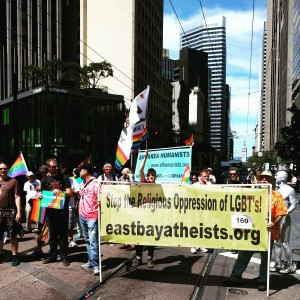 It should come as no surprise that secular groups are very welcoming to LGBTQI individuals. Humanist principles of justice and of valuing the dignity of each individual, naturally lead humanists to support causes for equality and to oppose unwarranted discrimination.

Additionally, recent polls by the Pew Research Center show that lesbian, gay, and bisexual Americans differ from the general public in their religious affiliations. Atheists, agnostics, and nones almost double in number when comparing LGBTQI beliefs to those of the broader U.S. population.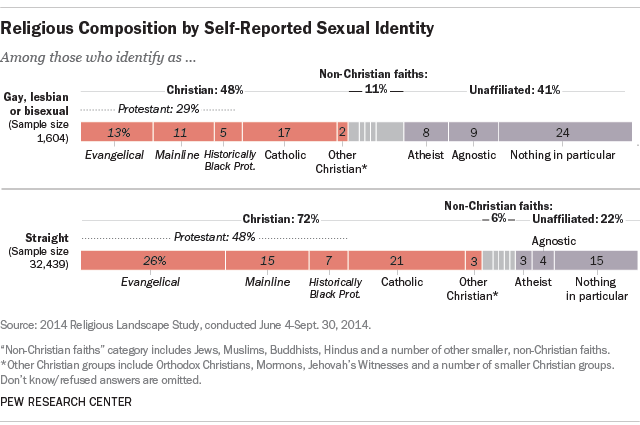 The Bay Area spans many large cities and thus encompasses a large variety of secular groups: Bay Area Humanists, East Bay Atheists, Humanistic Judaism, Sunday Assembly, Godless Perverts Social Club, and so many more. People come from all over the state to join in the Pride festivities.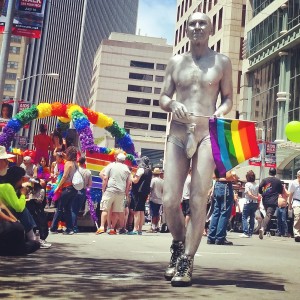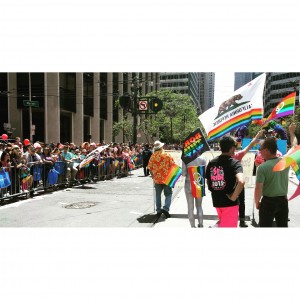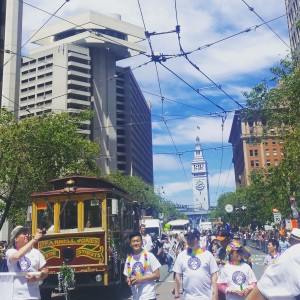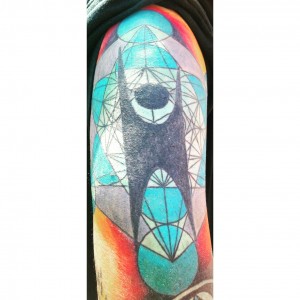 I feel grateful to live in California, and to have had the opportunity to share in such an amazing celebration. However, our work for equality and justice is nowhere near finished. There are many people worldwide who could not fully engage the joyful spirit of LGBTQI pride. A few examples:
BLACK OUT PRIDE kept it real by disrupting Chicago Pride and lifting up the voices of

trans people, women, people with disabilities and mental illness, Black and Brown folk, indigenous people, immigrants, sex workers and street youth.

In light of the Charleston church shooting, it is no wonder that some people "refuse to take pride in a "movement" singularly invested in gay liberation while black and brown folk continue to die at the hands of the state

and white vigilantes"

Trans people worldwide continue to face high rates of violence and incarceration.
I hope you enjoyed the above images, and I look forward to hearing how you celebrated Pride, wherever you are. Now, to continue our fight to see equality fully realized for all, here in the U.S. and abroad.