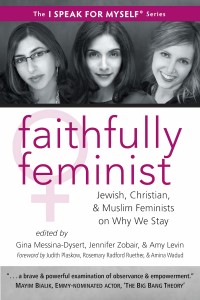 The book, Faithfully Feminist – Jewish, Christian, and Muslim Feminists on Why We Stay, will be available for purchase later this summer. It features essays by 45 contributors from Abrahamic religious traditions.
"Why do you stay?" It is a common question women are asked in relation to their faith. These are not women who buy into Candace Cameron's biblically submissive theory; rather, these are women who claim a feminist identity, have membership in a particular religious tradition, and practice their faith in spite of gendered challenges.

In Faithfully Feminist 15 Christian, 15 Jewish, and 15 Muslim women share their stories of struggle and faith. Faithfully Feminist is the sharing of stories, encouraging other women, and acknowledging that being feminist doesn't mean giving up on your faith.
Since the book has yet to be released, what follows is pre-emptive praise detailing my excitement about feminists sharing their narratives.
Yes, I'm a feminist. No, I'm not Jewish, Christian or Muslim. However, it was Women's Studies courses in undergrad that fully enticed me into making Religious Studies my major. In those days, my coursework involved reading the Tanakh and New Testament with women religious leaders. Specifically, an episcopalian ministers and reform rabbi were my mentors and professors. Each woman took me through their sacred texts. They were the ones who taught me how to read texts critically. Since that time, many years of my professional life have been spent researching the Abrahamic religions and engaging religious leaders in peacemaking efforts locally and abroad.
But back to the book — Apparently, Mayim Bialik is one of the contributors. I won't hold that against the rest of the authors. If you the reader also promise not to hold it against me that I'm not a fan of the Big Bang Theory show, and I once owned a 'Blossom' style hat. (Don't judge me, I was an impressionable young child in the 90s. Also, I dislike laugh tracks.)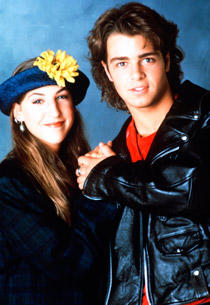 Other contributors to the book include:
So why is a self-proclaimed humanist and atheist excited for this book? Because as a feminist, I too struggle with the question "Why stay?" Why do I stay involved and associated with secular groups that are often characterized by misogyny and anti-theism? Sometimes I really don't know, but then other times the folks at Secular Woman remind me. But it is certainly an on-going conversation I have with myself.
Additionally, it is important to read texts which detail world views unlike our own. So many of the books I read while growing up centered around white, male perspectives on history and their cultural norms. Whereas I, a Filipino-American woman, could not relate to many scenarios presented to me through such required school readings. My elementary education was not only about learning fundamentals, but also about acquiring insight as to how to navigate a world set up by and for these white men.
While in grad school however, I got to travel abroad to Palestine, Israel, Jordan and Egypt. My favorite required readings for those courses were about the diversity of the Palestinian and Israeli people. By painting a picture of the complex and varied identities, I was better able to navigate relationships during my international travel, and with my colleagues during my internship in Nazareth.
More recently, I have enjoyed reading books such as Love, Inshallah and Salaam, Love. Two anthologies, the first by women the second by men. Both give a glimpse into the love lives of Muslim Americans. The short stories on love were a fun way to delve into the many rich cultures which inform Muslim practices.
Anyhow, I'm going to submit my pre-order for the Faithfully Feminist book now. If you have suggestions on other books I should be picking up which revolve around feminist narratives on identity, then I welcome your comments below!