Although Tahil and I have worked together on the North American Interfaith Network for over a year now, we had yet to meet in person until last month, when we attended the Parliament of World Religions conference in Salt Lake City, Utah. As we sat down for langar each day, I came to learn of his inspiring interfaith work on his university campus, as well as his perspective on working across the religious/non-religious divide. And thus we have arrived here on Non Prophet Status (NPS), for an interview with Tahil about his interfaith activities on campus, specifically regarding engagement with non-theists. Tahil works as a Communications Consultant with Religions for Peace, in addition to coordinating campaigns with Americans for Informed Democracy. He is also the Youth Rep to the UN for the Parliament of World Religions, and the Interfaith Youth Liaison for Sadhana, a coalition of progressive Hindus.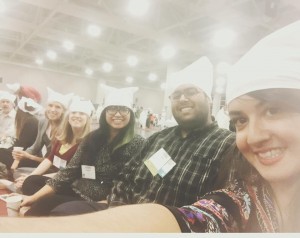 Non Prophet Status: Let's start at the beginning…What drew you to the interfaith field?
Tahil: As a religious person, from a household of two faiths (Sikh & Hindu), it has always been a challenge to explain the unique upbringing I have had, and the opportunities it has presented me. People always ask me: "Do your traditions ever conflict, Are you more of one faith than the other?" The most common inquiries revolved around the religions' histories, tenets, and practices. Their curiosity likely stemmed from the fact that both Sikhs and Hindus are a minority in the U.S., to an extreme. According to the Pew Forum's Religious Landscape Study, Hindus make up just .7% of the U.S. population, and Sikhs, less than .1%. My story with interfaith work begins here, from my birth, and throughout my life, as I began to connect with people of all religions and no religions at all, who were simply curious of my worldview.
The reasons why I do interfaith work?
To make peace and cooperation a socially productive norm in our society.
To aid others in rediscovering the humanity within all people.
To build respect and appreciation of our difference, while sharing this earth of ours.
I feel it is up to the global interfaith movement, religious and secular people standing together, to fight the tyranny of selfishness and greed in the world. We are not here to build a utopia, but rather a world that uses everything it has to make peace, equality, and justice a reality. You may say that I am a dreamer… but in fact, I fashion myself as a doer. And I know that I am not the only one that wants to enact these changes here and now.
NPS: During one of our lunch conversations, I was surprised to learn you helped establish a secular student group on your campus. Can you describe how that came to be?
Tahil: At the University of La Verne in Southern California, I was studying modern languages, majoring in Spanish, with a minor in international studies. It is a small college consisting of 2700~ undergraduate students and 2100~ graduate students. The school still embraces Brethren values of inclusivity and service, but once upon a time, the campus was a challenging place to have discussions of religious and secular diversity.
Existing resources on campus include the Office of Religious and Spiritual Life, the Coalition for Diversity, and the Office of Diversity & Inclusivity. In recent years, faculty, staff and students of various backgrounds began to discuss opportunities to promote pluralism and ways to take actions on issues of shared interest. These discussions gave way to the formation of an interfaith student council, known as Common Ground. Through this entity, more religious and non-religious communities were able to be represented on campus. A number of Christian communities were represented, but the inclusive atmosphere allowed for the creation of groups for Orthodox Christians, Baha'is, as well as Catholics. Other clubs came along that included Jewish and Muslim voices. Common Ground made for a university whose religious diversity acted cooperatively.
One group in particular that I always worked to have representation for was the secular community – atheists, anti-theists, agnostics, secular humanists, and seekers alike. From wisdom in invocations, to discussions and talks between individuals and groups, I was adamant about making sure such voices were part of the conversation on interfaith cooperation. Without secular perspectives at the table, interfaith cooperation is truly void of meaningful dialogue. Luckily, with the existing presence of eager students who wanted to take the initiative, I worked alongside them. With the support of the Secular Student Alliance, a national non-profit dedicated to help students voice their humanity and identity as being secular, we were able to establish a chapter on campus that has hosted events, information booths, and weekly meetings that invited all people to learn and discuss varying misconceptions and views of a variety of people.