A Christian woman is currently targeting countless compassionate people on Facebook in an attempt to con them out of as much money as possible.
Deborah H., who describes herself as a single "Christian female" who has never married and has no kids, frequently praises Jesus and posts anti-LGBT propaganda on Facebook. My investigation revealed she has also joined dozens of groups and convinced good-natured people (mostly in Southern California) to send her money under false pretenses.
I spoke with one victim, Rosann, who said she sent $100 to Deborah and her brother. In that case, Deborah was asking for help because she couldn't afford to groom her dog.
"She said she was not able to find a mobile groomer that would take a credit card, so I finally sent her $100 through Facebook to help her out. I'm saddened to say she now thinks I'm a bank and will lend/give her money," Rosann wrote in a group for lost and found animals in the San Bernardino Mountains. "I've done all I intend to do, and will never get myself in a situation like this again. Sad that she now wants to take advantage of me. I have every message between the two of us, and wish I never got involved."
Rosann asked Deborah to post a picture of the groomed dog to the group, but she never did. Instead, she started asking for money for a slew of other things.
Other Victims
Rosann, seeking to warn people who might be sucked in, posted about her experience to the group in which she met Deborah. She soon found out she wasn't the only victim, and they weren't limited to that particular group, either.
Another victim, Sacha, said she gave Deborah a queen mattress when she lived down the street from her two years ago. The requests didn't stop there, of course.
"She then asked for makeup and help to get the pup groomed. The pup never git groomed when i visited her. Then she asked if I could donate food and birthday supplies for her brother that has special needs so I bought Disney party stuff and cooked 2 trays of enchiladas and delivered them to her brothers birthday party. Well she kept asking people online for gift cards and gifts so I had to eventually block her," Sacha wrote in a series of comments. "I've met her family and she's the most competent out of them. You can tell she understands exactly what she's asking for. That's the sad part…"
Several other group members identified themselves as victims, including Mary. She said she belongs to a "random acts of kindness" group in which Deborah goes by numerous different pseudonyms.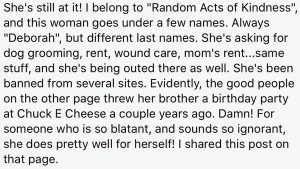 I also spoke with Allison, yet another self-identified victim who met Deborah in the random acts group. She says she sent a birthday card to someone in the family, a consistent thread in the stories from people I interviewed, and was later asked for money. Allison was blocked following this conversation: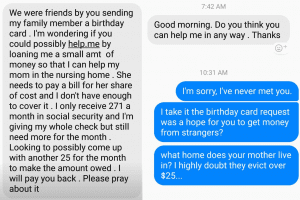 Will she stop now?
Another commenter, Rosie, said she knows Deborah and her family well and that they are clueless to her behavior. She added that the "only way" to stop Deborah is for "every admin on every site" to block her.
"So if all of us here on fb can please report to all admins, have them block it would help," Rosie wrote on Facebook. "I will do my best to talk to her and her brother."
According to Rosie, she approached her friend Deborah, who promised to stop. This behavior has reportedly continued for a number of years, so we'll see if it really ends here.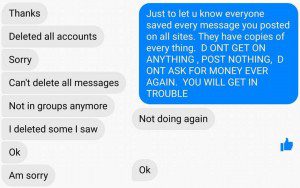 It should be noted that this case involves a number of factors (including, potentially, mental illness). That doesn't mean, however, that the behavior can be excused. Instead, since no formal charges have been made, we have to inform everyone who might be a target of Deborah or people with similar scams. And that's what I'm doing now, so feel free to share this post to spread awareness and/or support my future investigations by donating through Patreon.
Yours in reason,
David