Republican State Representative James White has been feuding with numerous atheist constituents on his public Facebook profile, even telling them to mind their own business and exercise their freedom of speech "on another FB page."
Unlike most things of substance, it began with a prayer. White, who lists the Bible and the U.S. Constitution as his "favorite books," said he was praying that the terminally ill British infant Charlie Gard "has an opportunity to live."
Some people agreed with White, who frequently quotes the Bible on his page, but a few non-believers made their presence known, too. Among them was Misty, who pointed out that the child needs doctors and medicine more than prayer. This was the conversation that followed: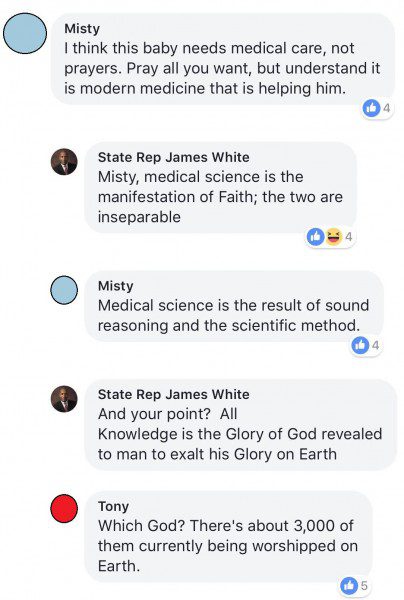 That's when James jumps in, asking White to "practice the separation of church and state." The politician's response? He said, "you should mind your business."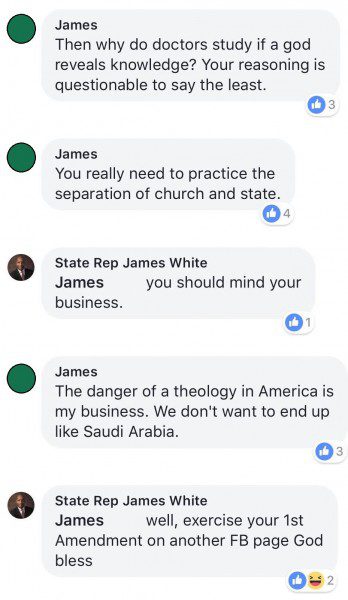 The debate raged on, with Misty calling White's "mind-your-own-business" remark juvenile and even asking for help from the Freedom from Religion Foundation. She also noted that White "regularly blocks those who respectfully disagree with him."
White hit back against the Misty and others who mentioned FFRF, saying there is "absolutely nothing they can do" to stop him.
"I have a 1st Amendment right to exercise my religion. Quoting scriptures, expressing my prayer thoughts are my ways of exercising religion, which is a constitutional right. So go ahead Misty call on the assistance of the FFRF but as for me and my house, we will serve the Lord."
White went on to fully explain how his comments were legal: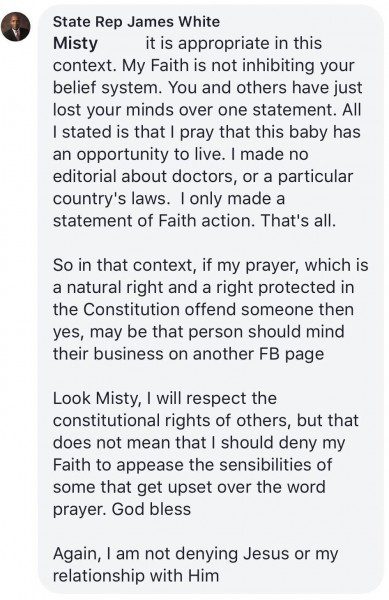 That particular conversation continued to devolve and eventually ended, but this isn't the only thread in which White has attacked (and/or been taken to task by) non-believers and other secularists. For me, the most important question was asked of White on a separate post.
A commenter named Tony wrote, "Are you for or against the separation of church and State?" White's answer was probably more telling than he intended.
It's clear to me that White doesn't support the wall of separation of Church and State because he doesn't understand it. He doesn't get that promoting religion in politics is one step away from establishing a "government church." That's OK, though, secular voters will just have to hold him accountable during the next election.
Yours in Reason,
David
Support my work by donating on Patreon:  https://www.patreon.com/DavidGMcAfee