You may not know this, but the Church of Scientology has a top secret underground base in Southern California where they have nuclear-safe bunkers for Tom Cruise, John Travolta, and other top church officials.
It's an extremely secretive building, hidden away in the San Bernardino mountains a few hours outside of Los Angeles, and the wife of the head of Scientology currently lives there. Its perimeters are littered with security cameras, and it just so happens to be a few minutes from my house.
The building, located in Crestline, California, is part of Scientology's secretive subsidiary – the Church of Spiritual Technology. It's supposed to be used to preserve the works of L. Ron Hubbard, as well as to help Cruise, Travolta, and other famous members survive a nuclear holocaust.
A few former church members and journalists have photographed the base by drone and revealed its goals, but I wanted to take a look for myself. Still, this is a dangerous group with high-tech security protocols, so we took precautions. We dressed in our hiking gear and parked at a carpet store near the compound.
We began walking down N Road, which stretches along one side of the compound, and noticed a few interesting things. For one, there were cameras everywhere. There were hundreds of cameras all over the property and just outside of it.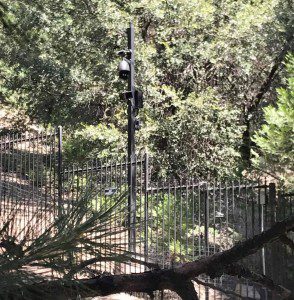 As we were walking, I noticed that some of the visible windows were completely covered so nothing could be seen. There were also filing cabinets, and other unidentified but strange materials, sitting outside the doors of the secure compound.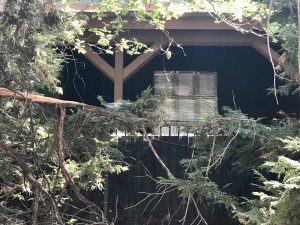 Toward the back of the compound, there were also about a dozen old metal containers. It looked like they could have been dog kennels, although there's no telling what they're being used for right now. It's rumored that the elders of the compound subject high-ranking members to torture, but the church calls it sensory deprivation.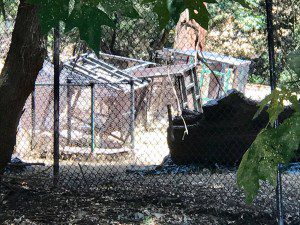 Throughout our walk, we had the distinct feeling that we were being watched by someone other than the cameras. There were also some strange noises, and a rock was thrown nearby and we couldn't find its source, so we decided to head back.
On our way back to the car, we noticed a Sheriff's vehicle parked near it. Assuming it was just a coincidence, we got in the car and took off along CA-189. That road goes along the side of the compound featuring its main entrance and so-called "security buildings."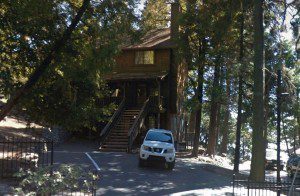 We couldn't get too close without trespassing, so we decided to head back to the main road. That's when we noticed a second police vehicle near where we were parked before. Scientology has a track record for controlling local police, so we headed straight home.

Overall, it was a fun trip. We weren't able to get close enough to see their underground bunkers (which exist several miles under ground), but the fact that we visited at all was enough for me. This place is within minutes of my house, so if the world ever comes to an end I know where to go! 😉
Feel free to support my work, and my future investigations, here: https://www.patreon.com/DavidGMcAfee