A Unitarian Universalist minister from Oklahoma was sentenced this week to 57 months in federal prison followed by 10 years of supervised release for streaming child pornography and talking to others about raping, torturing, and even killing children.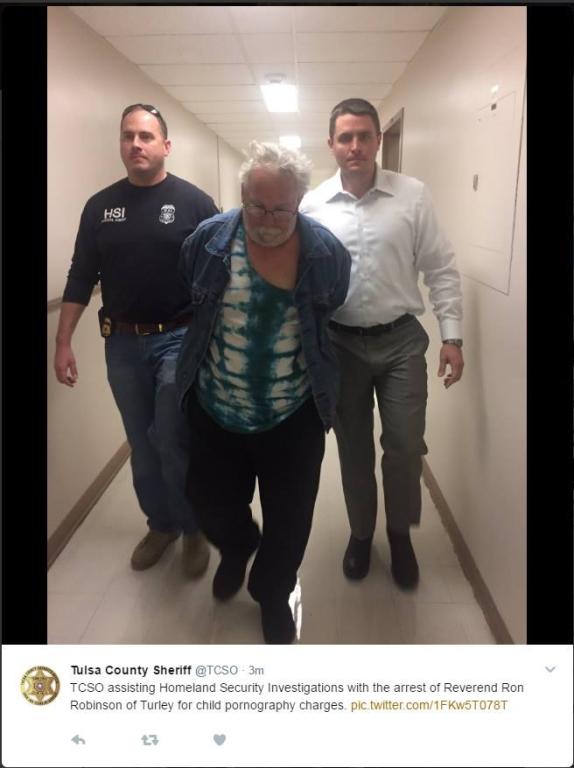 Ronald Eugene Robinson, Executive Director of the Unitarian Universalist Christian Fellowship in Tulsa, was arrested in March after he was observed viewing and discussing child porn in an online chatroom. Some of the kids in the videos viewed by Robinson were under 12 years old, according to U.S. Immigration and Customs Enforcement's Homeland Security Investigations (HSI).
HSI special agents observed Robinson making comments in the chatroom about raping a child and responding to a comment about killing a child after sexual abuse. HSI special agents also went through Robinson's chat logs and discovered that he had engaged in conversations with other individuals about raping, torturing and abusing children.
Unitarian Universalists are part of a liberal religious movement emphasizing a search for spiritual growth over fundamentalist religious dogma. Many atheists and agnostics participate in Unitarian services, especially for the community, and Unitarian churches are often at the forefront of social issues.
Robinson was the leader of a particular group of Unitarians known as the "Red Pill Brethren." Upon his arrest, they said they are "grieving" and "questioning" themselves.
But the man was flawed, deeply flawed, criminally flawed, and he was arrested for (and has admitted to) the crime of seeking out, possessing, and viewing child pornography. He taught us to "Love the Hell out of the World" because the world is indeed full of hells. One of these hells is the sexual abuse and exploitation of children. Our missional approach calls us to find the people our hearts break for and be in solidarity with them. Our hearts certainly break for all the children who are abused and exploited through child pornography and prostitution.

The news of his crimes broke. We gathered together. We who had already given up "Brethren;" we who had already given up "Red Pill" because the term had been co-opted by those supporting hate…

We are grieving. We are questioning ourselves. Did we exalt one of our own so much that he couldn't bring a prayer of confession to any of us?

We gathered together online for a conference call, (the technology that facilitated his crimes, also brought us together in pain and fellowship) the night the story broke. We expressed our disillusionment, our grief, our anger.
Robinson will spend almost five years in prison, and be supervised by authorities for 10 years following that, but is it enough? What do you think?
To support my work, and future investigations, please donate here: https://www.patreon.com/DavidGMcAfee
Any amount helps!