Pseudoscientific beliefs are common when it comes to alternative medicine, and they often lead to harm, but this is incredible: hundreds of people are drinking turpentine to "cure" just about every disease.
There are more than 640 members of Parasites cause all disease – turpentine cure, a closed group on Facebook promoting the consumption of a highly toxic and fatal solvent. I requested to join the group, stating that "I've been sicker than usual lately and I heard this group could help."
Once I was accepted, I saw something terrifying: real people who have been consuming turpentine and experiencing horrible side effects were sharing their stories and seeking "support." People were hoping to cure everything from scabies to "electromagnetic hypersensitivity" to herpes, and every ailment in between.
One person posted that they were "new to turpentine" and attached a warning label saying it is "not safe for internal use." Of course, one of the commenters assured them that "they are forced to do this by our corrupt FDA."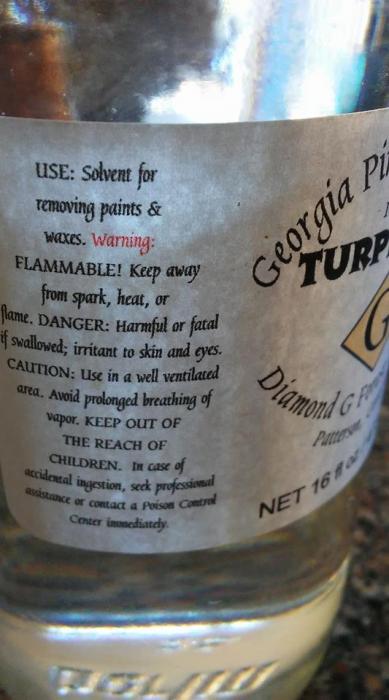 Another woman, Stephanie, was using "turpentine and castor oil" and began bleeding during bowel movements (as you'd expect).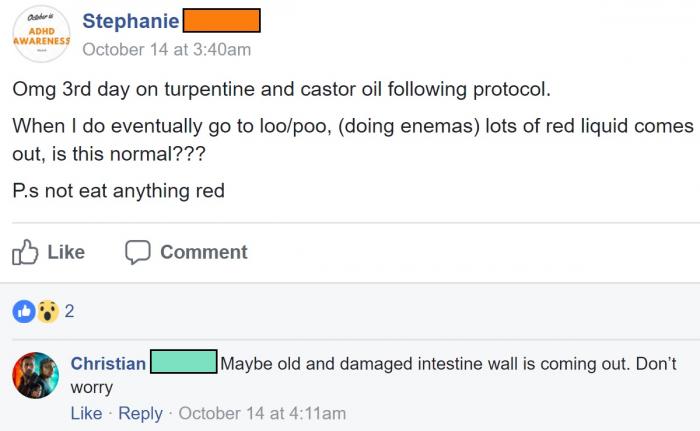 You see that at the end there? "Don't worry."
Stephanie should be very worried. According to www.drugs.com, turpentine "is highly toxic and fatal poisonings have been reported in children who have ingested as little as 15 mL of the material."
Turpentine has been used for traditional self-medication in the United States, and fatal poisonings have been reported in children who have ingested as little as 15 mL of the material. Turpentine is among the most commonly ingested poisons among childhood cases reported to poison control centers.
Turpentine can also irritate the respiratory pathways.
A case report documents a male, 20 years of age treated with oxygen, steroids, and eventually intercostal tube drainage after turpentine-induced chemical pneumonitis that evolved into a bronchopleural fistula. Toxic effects of turpentine ingestion include headache, insomnia, coughing, vomiting, hematuria, albuminuria, and coma.
Turpentine is made from pine tree sap, so it appeals to the "natural remedy" crowd, but that doesn't mean it is safe. As Scott Gavura wrote for Science-Based Medicine, drinking it can cause a lot of negative side effects (and no positive effects have been shown from this sort of "treatment").
As you might expect from the poison label on a bottle of turpentine, consuming turpentine can cause hydrocarbon poisoning. As little as a single tablespoon of turpentine can be fatal to a child. Fatalities appear to be rare in adults from consumption, but turpentine can cause severe and even fatal lung inflammation if inhaled, in addition to heart arrhythmias. The CDC says turpentine is "Immediately Dangerous to Life or Health." Even the vapour can irritate mucous membranes in the mouth, eyes and nose.
These aren't all the people who drink turpentine (or use it in enemas) as a home remedy — there are likely many more. In fact, members also spoke about other turpentine groups that are "hard to get into" because of "spy trolls" (like me). So this is a growing problem, and something not a lot of people are discussing.
People will continue to resort to dangerous home remedies like this one as long as they distrust the scientific community, so I'm not expecting this blog post to change everything. I'm just hoping to draw more attention to this trend, and give people information on the dangers of turpentine in case they are thinking about using it.
So, one more time for the people in the back, "Don't put turpentine inside your body (in any way whatsoever)!"
To support my ongoing investigations and writing, please donate here: https://www.patreon.com/DavidGMcAfee
Any amount helps!
Stay skeptical,
David G. McAfee