Actor and gay rights activist George Takei is the latest Hollywood celebrity to be accused of sexual assault. In this case, a former model and actor says the Star Trek star took advantage of him while he was "passed out."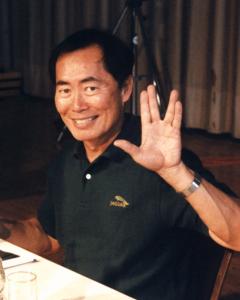 Scott R. Brunton, who was 23-years-old at the time of the alleged incident, said he met Takei at a bar and exchanged numbers. The two men interacted on numerous occasions after that, and Brunton says Takei consoled him after a break up with his then-boyfriend, according to the Hollywood Reporter.
Takei, as Brunton tells it, invited him to dinner and the theater. "He was very good at consoling me and understanding that I was upset and still in love with my boyfriend," Brunton says. "He was a great ear. He was very good about me spilling my heart on my sleeve."

The two men went back to the actor's condo for a drink the same night. "We have the drink and he asks if I would like another," Brunton recalls. "And I said sure. So, I have the second one, and then all of a sudden, I begin feeling very disoriented and dizzy, and I thought I was going to pass out. I said I need to sit down and he said sit over here and he had the giant yellow beanbag chair. So I sat down in that and leaned my head back and I must have passed out."

"The next thing I remember I was coming to and he had my pants down around my ankles and he was groping my crotch and trying to get my underwear off and feeling me up at the same time, trying to get his hands down my underwear," Brunton says. "I came to and said, 'What are you doing?!' I said, 'I don't want to do this.' He goes, 'You need to relax. I am just trying to make you comfortable. Get comfortable.' And I said, 'No. I don't want to do this.' And I pushed him off and he said, 'OK, fine.' And I said I am going to go and he said, 'If you feel you must. You're in no condition to drive.' I said, 'I don't care I want to go.' So I managed to get my pants up and compose myself and I was just shocked. I walked out and went to my car until I felt well enough to drive home, and that was that."
The Hollywood Reporter also confirmed Brunton's story with four of his longtime friends, who all said he told them about the encounter with Takei years ago. Takei didn't respond to THR's requests for comment.
These allegations come just a few weeks after it was reported that Astrophysicist Neil deGrasse Tyson was accused of raping a former grad student in a similar scenario. In that case, the woman claims to have been drugged by Tyson and then raped while she was passed out.
Of course, we really have no way of knowing for sure if these allegations are true. We have to balance an assumption of innocence with believing people who have been abused, and after this much time there probably isn't any concrete evidence either way. What is certain, though, is these people have been making the same claims against Takei and Tyson for quite some time. This didn't all start after the fall of Harvey Weinstein, and it is something that should be investigated.
So what do you think?