Austin Petersen, the Libertarian activist running for Senate in Missouri as a Republican, once had a profile on a "sugar daddy" website for wealthy singles seeking younger companions.
You may remember Petersen for his jump from the Libertarian Party to the Republican Party to challenge Claire McCaskill's Senate seat, or for distancing himself from the word "atheist" in his interview with me (he now prefers to be called an agnostic), but others purport him to be a politician who perpetually seeks relationships with younger women. Petersen's unorthodox sexual proclivities were first reported by a right-wing online magazine called the Liberty Conservative, which champions "traditional values" and "personal freedom."
The conservative outlet questioned if it's appropriate for a candidate to have solicited a "sugar daddy" relationship by joining SugarDaddie.com.
If true, that is disqualifying in the minds of many voters who view this sort of conduct as childish and unserious. The "sugar daddy/sugar baby" relationship is one which is comparable to prostitution, and any candidate who was found soliciting prostitutes would be immediately disqualified from the votes of the vast majority of people.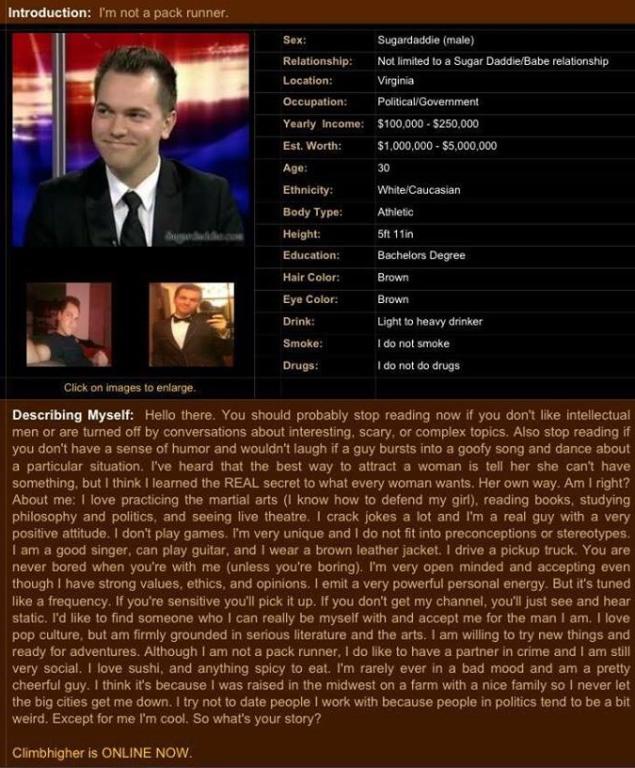 After that May 2016 report from the Liberty Conservative, Petersen admitted the profile was his. He posted on Facebook that the article was about his "dating habits of five years ago" and implied that the author of that piece was "jealous" of his "incredible sexual history."
"Why did I do it? Because there were attractive women there. Why did I say my net worth was 1.5 million? Because that was the default option if you didn't fill anything in. Did I ever pay for sex? Does dinner count? The answer is no."
Petersen also noted that this was a "fun little personal" detail about his life, and that we should expect "many more" to be revealed soon.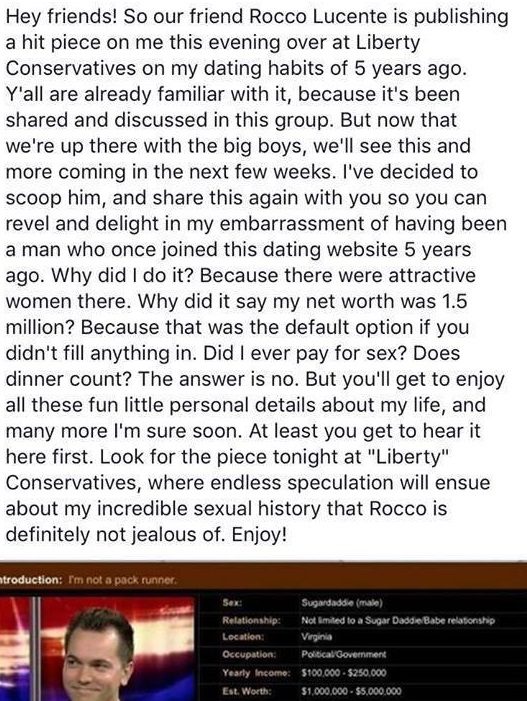 That post is no longer on Facebook, but I reached out to Petersen to see if he had any additional comments on his presence on the sugar daddy dating site. I wanted to give him the chance to explain himself, especially considering that the treatment of women has become such a prominent issue in today's society (and rightfully so).
Petersen's response began, in true Republican form, by bringing up Hillary Clinton.
"Dating in the modern age is harder than ever, and it's even harder when women find out you didn't vote for Hillary Clinton," he told me in an email on Saturday. "I'm not ashamed to admit I've used a number of dating websites and apps in the past (e.g. OK Cupid, Tinder, etc.). I suppose this one is a little embarrassing."
Petersen added that, if he could go back in time six years, he "wouldn't have signed up."
"My campaign manager tells me Bumble is what the cool kids are using nowadays. So maybe I'll try that next."
No matter what Petersen tries next, let's hope it's not a website that treats women like objects you can simply buy.
Petersen himself said that this is one of many controversial details related to his personal life, so we'll see if anything else pops up before election time. If you have any information about this development, or want to contact me about another story, I can be reached at david@davidgmcafee.com.
Yours in Reason,
David G. McAfee