Have you ever wanted to review David "Avocado" Wolfe, the Nutribullet spokesman who says chocolate is an "octave of the sun"? Well, you may never get your chance now, because he has removed the reviews section from his Facebook page entirely following some low ratings.
When I say he received "low ratings," I don't mean someone gave him 3.5 out of 5 stars and he got sad. The last known tally, before he removed the ability to rate his work from his page, showed he had more than 5,000 1-star ratings (compared to 53 5-stars).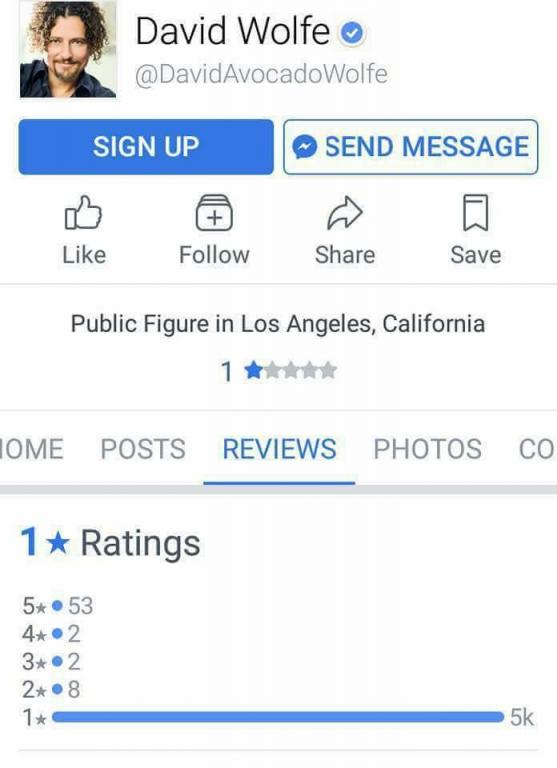 Only about 200 people had reviewed Wolfe's work within a few hours, but when the Credible Hulk announced what was happening, the reviews soon exploded. After just a few hours of that, Wolfe closed the reviews process, making it impossible to let him know how much we value his work.
In his typical style, the Credible Hulk destroys Wolfe with science and skeptical thinking, saying he's not sure if Wolfe believes the nonsense he espouses or if he's "just a really slick salesman capitalizing on overly-trusting victims who simply haven't an adequate background in the physical sciences to know how full of it he is."
"I'm not sure which scenario would be worse," Credible Hulk wrote in his review. "He encourages people to take fake cancer 'cures' instead of getting real treatment by real doctors."
The reviews I read varied in their seriousness and intensity. One woman called Wolfe "one of the biggest drawbacks to freedom of expression" and said his "peddling of pseudoscientific nonsense is despicable," while a funny reviewer claimed he cut "gravity" out of his diet since Wolfe told him it was actually a toxin.
"Now I'm floating endlessly in space," the reviewer wrote totally sarcastically. "Luckily a nice man named Elon Musk is sending me a car to get in while I still die hopelessly because of this liar."
Wolfe has been able to gain millions of followers by "boosting" inspirational posts about nature, and he uses that fan base to sling unproven and unregulated "remedies" that can actually be harmful. He has been exposed by several high-profile science writers, including SciBabe, but he just keeps on going… like a crazy Energizer bunny. I'd like to think this experience – reading potentially thousands of negative reviews inspired by nothing more than his scams – has humbled him. But I doubt that's the case.
Yours in Reason,
David McAfee