Notorious self-proclaimed "psychic" and convicted fraudster Gina Marie Marks just pleaded guilty to stealing more than $340,000 from five victims over three years, but after she left the courthouse she blamed her misfortune on people who are "racist from gypsies."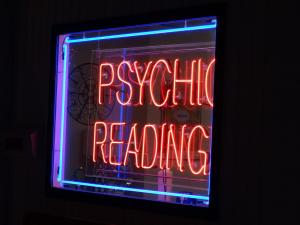 Marks, who has a long history of ripping people off under similar circumstances, used the pseudonym Natalie Miller to scam the five people who sought her spiritual guidance. She asked for exorbitant fees to cast "love curses" and break other hexes, and even met clients at stores, where she used their credit cards to purchase things for herself.
Perhaps most interestingly, Marks pleaded guilty to the psychic fraud charges and then immediately went on the defensive, promising that she has "real power." The only reason she was charged in this case, she implies, is racism against her people.
Marks said Friday that she would return all of the payments she received. She walked out of court in Montgomery County with her husband, who wrapped a coat over her head.

She was adamant that her services are legitimate and she really is a psychic.

"People are racist from gypsies," Marks said from beneath a black, puffy coat. "They're racist on my culture. We do have power. We're not allowed to talk about it."
A reporter outside the courthouse asked Marks what power she has, and her husband, Shannon Miller, responded "Witchcraft."
Despite Marks being what she calls a "witch," she was unable to conjure her way out of an arrest. She was taken into custody at an airport in Florida, from which she was about to flee the country.
The arrest was prompted by the work of private investigator and "psychic hunter" Bob Nygaard, who was hired by one of Marks' victims. The investigator, a former New York police officer who I interviewed in August, is responsible for the arrests of at least 28 "psychic" con artists who were forced to return more than $3.2 million to their victims.
"Instead of crediting the con, they blame the victim… Well, what I say is, it's not a crime to be gullible, but it is a crime to steal from a gullible person. What ever happened to empathy? Where did empathy go?" – Nygaard during our interview
I know there's a strong tendency to blame the victims in cases like this, where we can't see how someone would fall for obvious lies, but it's also important to acknowledge the important role of emotions here. Marks and other scammers rip off people who are at their most vulnerable, who might not be thinking clearly, and they should be held to the same standards as anyone else who steals from those they call clients.
So, thank you for your work, Bob! This is justice in action.