An Australian politician who has become known for fiercely opposing same-sex marriage on the grounds that it would destroy "traditional marriage" and ruin families has now initiated a divorce. He's leaving his wife and kids to live with a much younger woman, which caused people to edit Wikipedia's page for "hypocrisy" to include his face.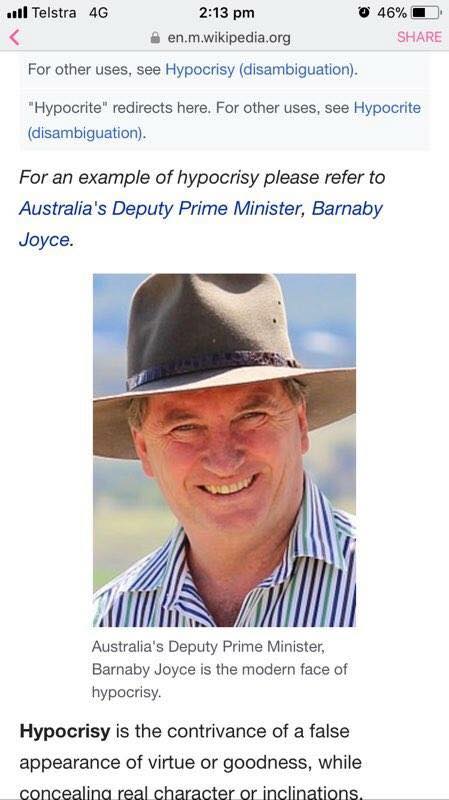 The edits were reportedly up for at least an hour, but that led to significant social media attention. People rejoiced in the fact that Australian Prime Minister Barnaby Joyce, who also reportedly gave his girlfriend a well-paying job despite railing against welfare cheats, was used as an example of the "modern face of hypocrisy."
Someone has been busy editing the Wikipedia page for the word 'hypocrisy'… @Barnaby_Joyce #auspol pic.twitter.com/gR9RkDMb5N

— Jamieson Murphy (@jamiesonmurph) February 9, 2018
Other Wikipedia editors eventually noticed the changes, and took action. It was removed and labelled as "vandalism," according to Wikipedia's history for the page. That went back and forth for quite some time until the security settings were changed for the "hypocrisy" page, making it more difficult for someone to add in a picture of Joyce.
The Wikipedia war itself was discussed on Reddit, as well, but not reported elsewhere.
I spoke with Susan Gerbic, a friend of mine affectionately known as "The Wikipediatrician," and she said she doesn't "get it."
"They would be pissed off if the vandalism was against the side they agree with. Rules need to be fair for everyone," Gerbic told me in a personal message. "I know it is funny but I think time should be better spend on actually getting things done."
This particular change is probably inappropriate for Wikipedia, so "vandalism" is probably an appropriate term, but at the same time he is a hypocrite, and this is funny. So, what do you all think?
Yours in Reason,
David G. McAfee