My most recent book, No Sacred Cows: Investigating Myths, Cults, and the Supernatural, was published late last year. Since then, we've been waiting for the audio book to be released.
Well, the wait is finally over! The Audible version, narrated by Rich Miller, was just released last week. To celebrate, I'm offering one free download code to someone who shares this article (a $21.95 value).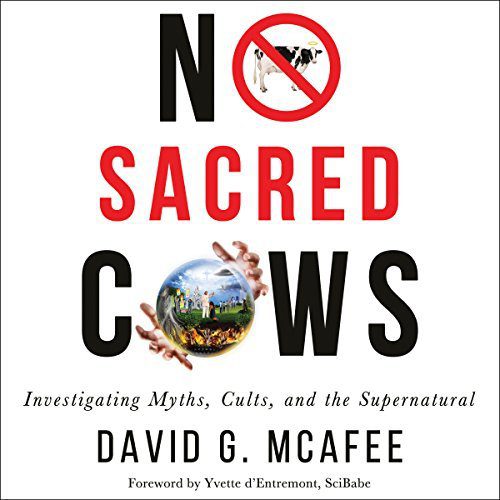 This book is hugely important to me, and not just because it took me six years to research and write. It's also a great primer for anyone looking to improve their critical thinking skills or become a better bullshit detector, and a helpful reference for someone who believes in the supernatural but has questions.
The audio version is especially helpful because the book has 448 pages, and is considered a textbook by some. Listening to the Audible book sometimes makes ideas and arguments contained within easier to process.
I also want to note that I met Rich Miller, a true professional and master at his craft of storytelling, at a speaking event when I was on a book tour going through several cities in Arizona. He was incredibly nice, and had a soothing voice that I think made the audio book even better.
So, if you want a free digital download code for an Audible copy, simply share this post and leave a comment. I will choose one winner at random a week from today, and contact them. If you just want to order the audio book, you can do that, too: https://amzn.to/2Gzv47h
Thank you all so much for the support! It means more to me than you can possibly imagine.
Yours in reason,
David G. McAfee