A man who sells "healing stones" in the United Kingdom has been posting his "psychic art," which is supposed to portray real people who have died, to several New Age Facebook groups.
Amar Singh, the owner of Amar's Crystal Earth Cave in the U.K., has been posting his so-called spirit art since at least 2017. He's also a Reiki practitioner with a "Certificate of Attunement and Instruction" from the Reiki and Seichem Association, whatever that means.
Singh posted his most recent piece of psychic artwork – the one that caught my attention – on May 8. He sensed that the subject of his drawing "past [sic] away suddenly" and that her name begins with an "N."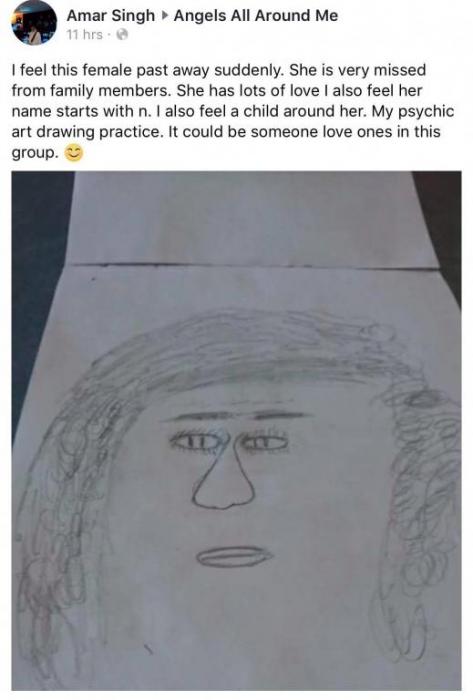 When I first stumbled across this photo, I felt that it had to be satire, and that Singh was just trolling these groups with his magical doodles. Unfortunately, I was wrong. He has dozens of these pieces, and has been promoting them alongside his crystals for months.
Here's some psychic art he posted last year: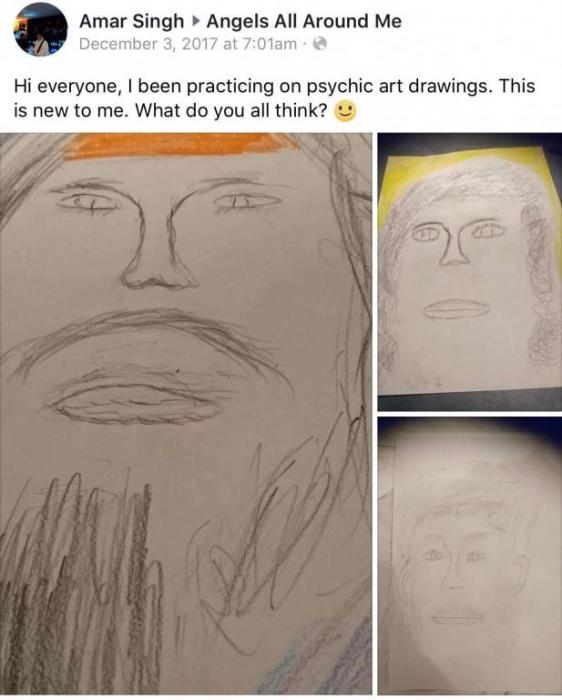 Here are a couple more: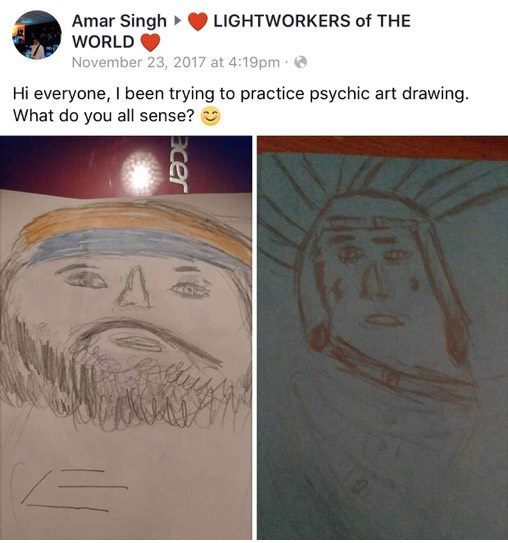 Amar may not be the talented psychic artist that he thinks he is, and some of his drawings might look like something I did in kindergarten, but he does seem like a genuinely nice guy. I messaged him to ask about his art, and he said he is "still developing" his supernatural skill.
Amar seems to be cordial and friendly to just about everyone in the posts that I've seen, which were all public, and it doesn't seem like he's trying to deceive anyone. In my opinion, it appears that he believes his crystals have healing properties and that dead people can be drawn based on their spiritual presence alone. He's wrong, but not lying.
It doesn't seem like Amar has ever charged for his psychic art — he posts for free in groups hoping that someone will "connect" with the drawings — but I've offered to pay for a rendering of a spirit in my life. We'll see how that goes!