Reality TV tattoo artist Kat Von D has gone viral recently for her decision to "ditch her doctor" and avoid all vaccinations for her upcoming baby, but it turns out she has even darker controversies in her past.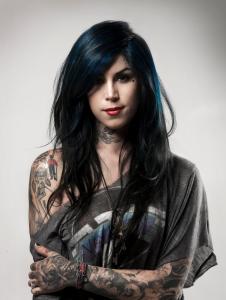 Von D sparked outrage among some of her fans, as well as a larger debate, when she posted on Instagram that – despite her love of tattooing needles – her "approach" to pregnancy included rejection of vaccines. Lots of people condemned her for her anti-vaxx stance, and for raising her kid as a vegan, but not many people remembered her past controversies.
The most explosive allegation against Von D came in 2008 when she was labeled the "next Mel Gibson" for reportedly sending a racist and hateful note to her Jewish boss, Ami James, after being fired from Miami Ink.
TMZ has obtained the photograph in question, a headshot of Kat that reads, "Burn in hell Jewbag." No one witnessed Kat write the message, but Chris Garver, another tattoo artist on "Miami Ink," tells TMZ Kat personally handed him the photo. When Ami, who is Jewish, received the photo, sources tell us he went to TLC and was rebuffed. We're told after Ami had a lawyer intervene, TLC went to a handwriting analyst who concluded "there is a 99% probability that Kat Von D" wrote the message. In early July 2007, Ami's lawyer went to TLC with the analysis. They simply sent him a letter back that acknowledged receiving the results and said, "We trust that this information will be kept strictly confidential."

Kat's spinoff show, "LA Ink," premiered a month later.

When contacted about the photo, Ami told TMZ he wasn't as offended by the photo as he was by the indifference toward it, saying, "What is more devastating to me, and much more shameful is when people ignore something like this for the sake of the money or self-interest. That is the real 'punch in the gut.'"
Of course, Von D has denied the allegations (she claims it's forged) and the TV network said there isn't enough evidence to prove it was her, so no disciplinary action was taken. But there are some pretty concrete examples of Von D's anti-Semitic behavior, including her comparison of eating meat to the holocaust in 2017.
It doesn't end there, either. Von D is also known for her past relationship with Jesse James, who is known for a photo of him sporting a German Nazi hat and doing a Nazi salute. His lawyer claimed that the hat was just a gag gift, and that James is not a neo-nazi.
All this together, along with rumors about an inappropriately named lipstick from Von D, seem to suggest that there's more to the celebrity tattoo artist than meets the eye. We may never know the truth about all this, but Von D's recent announcement about not vaccinating her baby is bringing it all to light again.
I sincerely hope Von D doesn't hate Jewish people, but there's no doubt she has made some messaging and PR mistakes.