Odell Beckham Jr., wide receiver for the New York Giants, posted on Instagram that he was "forgiven" thanks to a baptism in Jerusalem… just as allegations of prostitution were swirling back at home.
Beckham Jr. was accused of trying to illegally pay a woman $1,000 for sex, but he has denied the allegations. A man who is suing Beckham Jr. for $15 million over an alleged assault now says he has proof of the illegal actions.
The man suing Odell Beckham for an alleged brutal beatdown at the NFL star's home is escalating the war — now claiming he has proof Odell tried to illegally pay a woman for sex.

But, Odell's team claims it's all BS.

It's all in new court docs filed in California … in which Ishmael Temple claims he was at Beckham's Beverly Hills home back in January, when the NFL star turned on him and allegedly ordered his employees to beat him up.

…

Temple's lawyers have filed new docs — including an alleged email exchange with Beckham's attorneys — and it's loaded with new bombshell allegations.

Among them, Temple's attorney claims, "We have evidence of your client offering $1k to sleep with a girl from Arizona visiting L.A. known to my client."
Beckham Jr. has continued to deny all the allegations, but that didn't stop him from taking a "forgiveness" tour of Jerusalem. In a series of photos posted to Instagram, the NFL star shows his baptism and declares a "fresh start."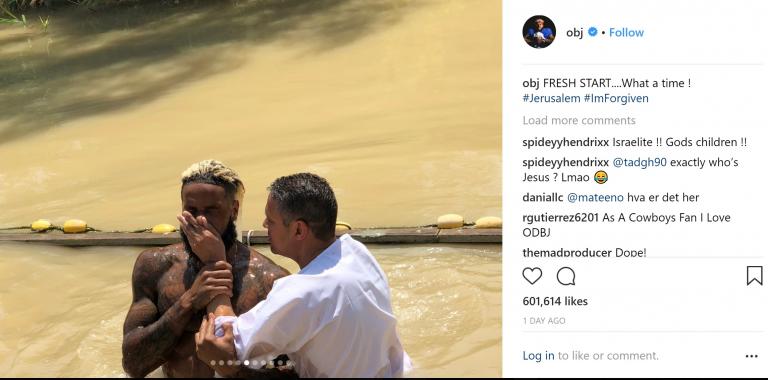 If Beckham Jr. really didn't do the things of which he is accused, then this is pretty odd timing and imagery, especially considering the references to "forgiveness" in the context of sins in Christian writings.
I'm not the only one to notice this juxtaposition, either.
The 25-year-old NFL star was baptized in Jerusalem this week, according to a series of Instagram photos.

One photo shows the blond athlete being dunked in a body of murky water by a priest. Other snaps show him flexing his muscles and visiting tourist sites.

"Fresh start," he captioned the photos. "What a time!" He also added the hashtag "Imforgiven."

"I couldn't of asked for anything more!!!!" he also said of his trip to the Middle East. "God I can't thank u enough for this one. My journey is just beginning."

All this positivity follows a slew of stories accusing the New York Giants wide receiver of naughty illegal behavior.
I don't know if Beckham Jr. tried to pay a woman for sex, hell I didn't know what a Beckham Jr. was until today, but do I know Christian symbolism – and it seems like he's repenting for some reason.