Cancer is a tough diagnosis for anyone, but recovery is even more difficult if you put your faith in dangerous and unproven "cures" instead of in modern medicine.
That's what happened to one woman, who we will refer to simply as "Theresa." She was diagnosed with cancer in early 2017 and, by the end of that year, she was applying a topical paste that eats away skin tissues.
Black salves are offered "with the false promise of drawing cancer out from the skin" and are "potentially corrosive to tissues," according to the FDA.
Despite warnings from the FDA, and just about every other credible health organization, Theresa decided to use a "black salve" treatment and avoid the doctor. Specifically, she said she started her topical applications in October 2017, posting in a black salve research group that her breast was "really swollen" due to the salve's internal reaction.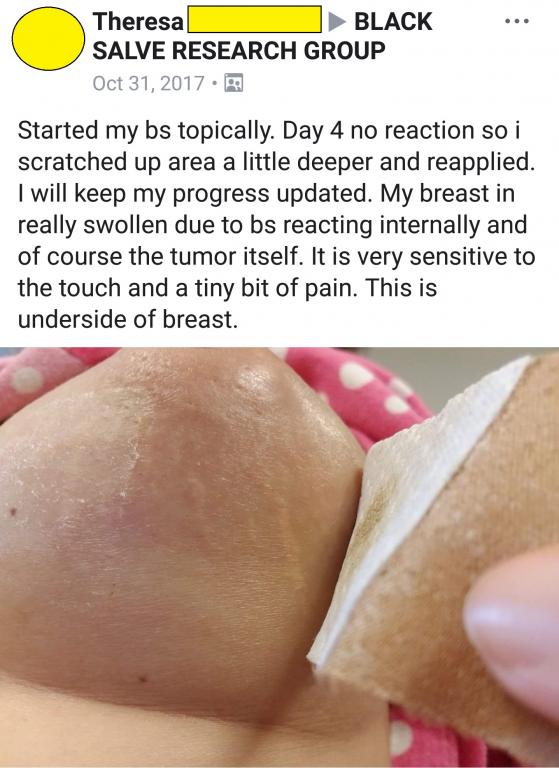 After about a month, Theresa posted additional photos of her breast on which she had been using the black salve. By that time, she was already beginning to experience the necrosis that is so common with this type of "treatment." She said she "never thought" it would react that way.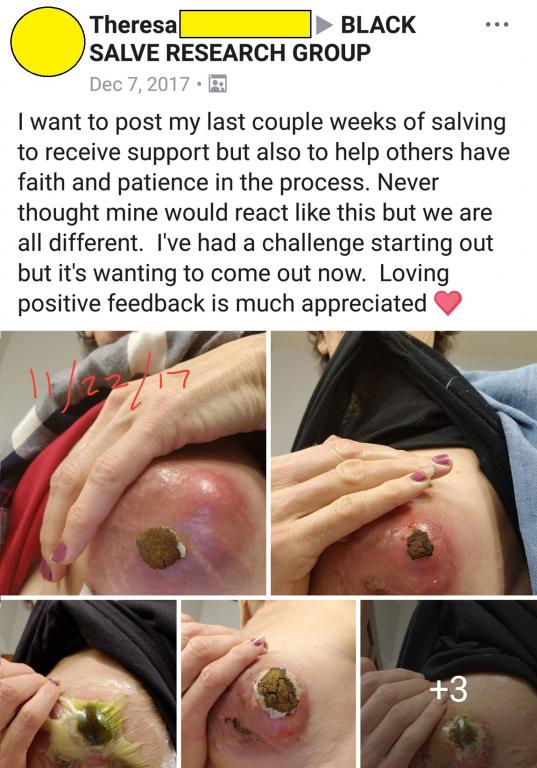 By December of that year, the salve had eaten away more and more of Theresa's breast tissue. She posted graphic photos in the group, and even asked for suggestions, but she ruled out medical intervention.
"And please no comments to see a doctor. I've been there. This is my path and I trust in it and my God who is healing me."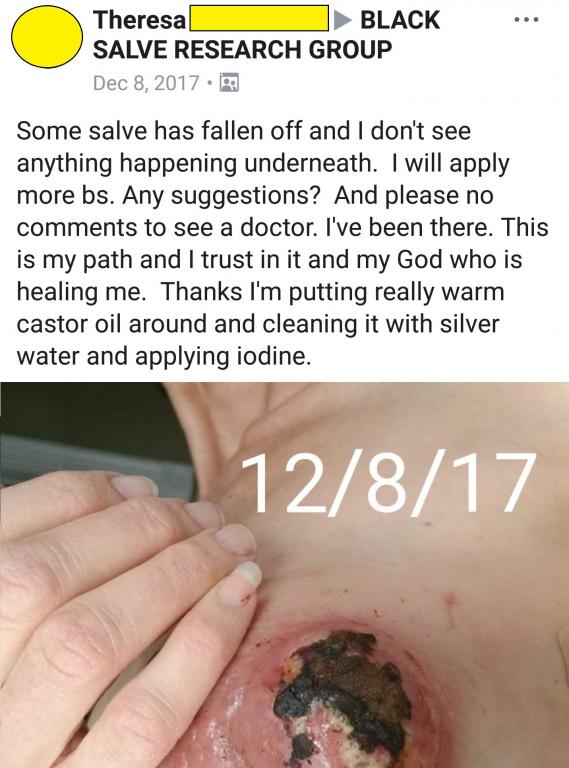 By January of this year, it looks like Theresa had changed her tune regarding turning to medical doctors. She posted on Jan. 27 that her "surgery moved to Monday," and then a month later she was on her way to her "first chemo treatment," which is something she should have done long ago.
Unfortunately, Theresa chose to put off treatment for too long. She passed away in April after spending time in the hospital for a prolonged infection.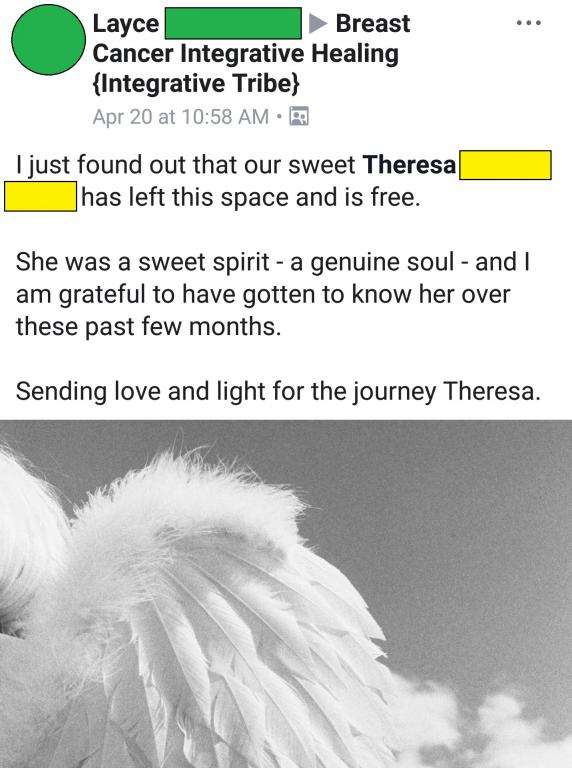 I spoke to an admin from the Detox, AntiVax and Woo Insanity Facebook page, which has been following Theresa's story since the early stages of the "treatment." She said Theresa was falling for false cures even before the black salve, and that the dangerous alternative medicine may have been her "last ditch effort after many months of natural remedies."
"First, she pursued natural healing including black salve rather than traditional cancer treatment. Second, it led to a major necessary surgery that she never seemed to fully recover from… I believe this sped up her death."
This is a truly tragic story. No one deserves a death like this, especially one that was likely preventable if only the patient had gotten treatment earlier. My only hope is that others will learn from this story, and not repeat Theresa's mistakes. If you are diagnosed with cancer, please get medical help!
If you want to support my writing and ongoing investigations, and get some perks along the way, you can contribute here: https://www.patreon.com/DavidGMcAfee
Stay Skeptical,
David G. McAfee