A Los Vegas city Councilwoman and member of the Southern Nevada Health District Board sent a newsletter out to constituents that casts doubt on well-understood science backing vaccines.
Michele Fiore sent out the official city newsletter with a section entitled, "Freedom and Vaccines." The board on which she sits "strongly encourages" parents to get children vaccinated, according to Las Vegas Now.
Fiore's newsletter is meant for parents sending their children back to school.

"Back to school can often mean back to your pediatrician or health department for this year's round of vaccines, but it doesn't necessarily have to."

Among other things, the newsletter gives locations for immunizations but it also offers advice on vaccines and reminds parents they can opt out of getting their children vaccinated and that the government can't mandate vaccines.

"People need to make better-educated decisions when it comes to their bodies. It astonishes me how many are willing to just accept the opinions of the masses or people of higher power, without doing any personal research. We depend on entertainment for news."
This newsletter comes right out of the anti-vaxx playbook, including talking about government limitations and about accepting "the opinions of the masses." I think she meant to say accepting the of monumental "scientific consensus," but I'll let that one go.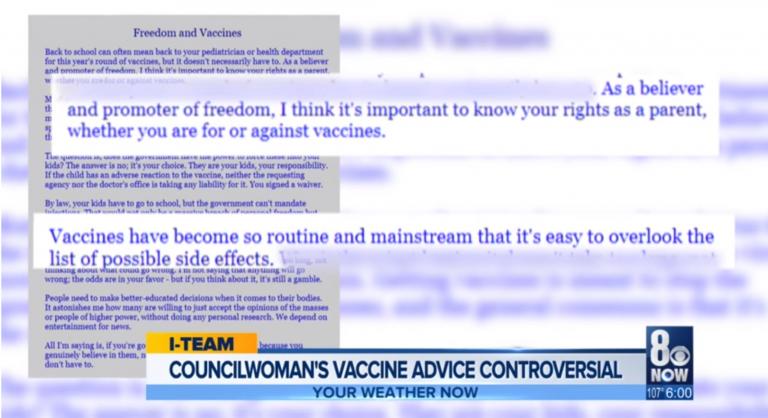 Thankfully, not all of the Southern Nevada Health District Board members hold anti-science positions on this like Councilwoman Fiore does. Other members are speaking out against her comments.
Dr. Frank Nemec, who also sits on the SNHD board reacted to Fiore's newsletter, "While I respect individual freedom, I think it is irresponsible to encourage children to not get vaccinated."

"This is a prime example of how our elected officials, with zero medical training or background, can sabotage decades of progress in keeping our communities healthy and safe. The councilwoman parrots many of the most harmful, disproven statements of the discredited anti-vaccine community and should be held accountable if her advice leads to yet another outbreak of preventable disease that could lead to the death of innocent children," said Dr. Zubin Damania, a Las Vegas physician who often speaks out on issues.

Clark County Commissioner Marilyn Kirkpatrick, who also sits on the health district board said, "Vaccinations protect our families and our community from diseases that just a few generations ago terrorized our country"

Another health board member Brian Wursten said, "I respect Councilwoman Fiore and her right to her own opinion. I however believe immunizations are safe, effective and the best way to eradicate Infectious diseases, save the lives of your children and with those they associate. I believe parents should in all but extreme cases have their children immunized."
Fiore clearly sent this letter (filled with anti-vaxx dog whistles and blatantly false medical advice) in order to encourage doubt in vaccines, and reduce the rate of vaccinated children. Yet in a statement she seems to back away from her earlier comments, basically giving the political version of, "I'm just asking questions!"
"I am traveling with my grandson for his birthday and am unavailable for an interview. In my newsletter, I outlined back to school vaccination information, and urged parents to educate themselves on all sides of the issue so that they can make informed decisions for their children. At no point in the newsletter did I advocate for parents to forego vaccinations. In fact, I included links to free and/or low cost vaccinations clinics."
Yes, she did provide some information on where to get vaccines. But she undid a lot of that with the rest of the newsletter, where she basically tells people not to trust scientists who say immunizations are safe and effective.
If any future outbreaks can be traced back to this newsletter, then she needs to be held accountable for spreading false information.