A previously healthy 11-month-old baby suffered a potentially fatal stroke from chickenpox, all because the parents decided to skip vaccinations.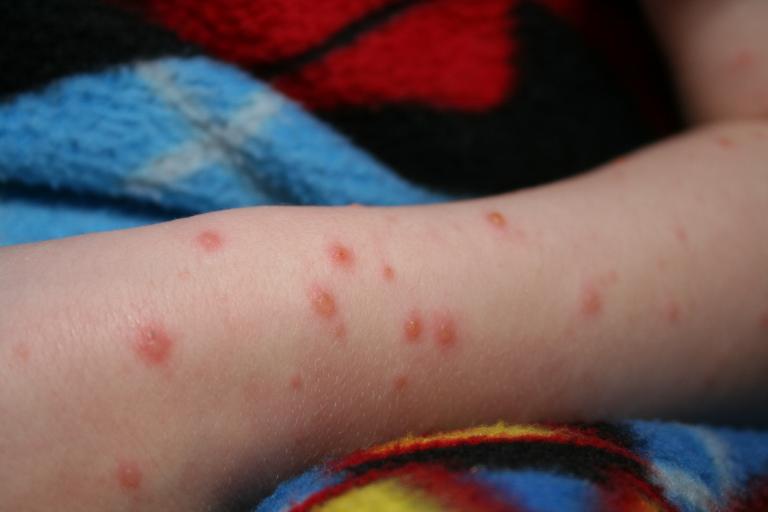 The case is extraordinarily well documented, and it was published last month in the Journal of Pediatrics. Researchers said there was a four-fold increased risk of stroke in children in the first six months after chickenpox, and that vaccines are the answer.
In contrast, no increase in childhood stroke was reported after varicella vaccination. DeVeber et al noted a decrease in post-varicella arteriopathy after the widespread availability of vaccination in Canada.

…

Stroke can occur after primary or reactivated varicella.
"A Scary Reminder"
The news went largely unnoticed, perhaps because it was buried in a scientific study, but a few websites picked up on it. Today actually said the case "serves as a scary reminder" that chickenpox vaccines are medically important.
The boy's mother sought medical care after noticing he had developed weakness on his right side. Doctors determined the stroke was a complication of a chickenpox infection most likely caught from the child's older siblings, who had been unvaccinated and had developed chickenpox around the same time the little boy had, according to a recent report published in the Journal of Pediatrics.

The case highlights the dangers — both to one's own children and to those of others — that are associated with skipping vaccinations. Widespread vaccination protects kids who can't get vaccinated either because they are younger than 1 year, like the boy in the report, or because they have immune system problems. In recent months, there have been numerous chickenpox outbreaks around the country, a result of pockets of parents who have opted not to vaccinate, assuming either that their kids won't get the disease or will simply tough it out if they do.
The 11-month-old was too young to be vaccinated, so the child was relying on herd immunity. Unfortunately, the parents decided to skip the inoculations for their other kids.
Vaccines Too Effective
In a way, vaccines have been victims of their own long-lasting effectiveness. Vaccines work, so when more people get them, fewer people die from diseases like chickenpox and even measles. That reduction in serious cases in turn leads to more people refusing vaccines, because they don't see why they're important, according to researchers.
As chickenpox cases became increasingly rare, fewer people remembered how dangerous they could be, said Dr. Tina Tan, a professor of pediatrics at Northwestern University's Feinberg School of Medicine and a pediatric infectious disease specialist at the Robert H. Lurie Children's Hospital.

"Everyone thinks it's a minor illness," said Tan, who is also chairwoman of the section on infectious diseases for the American Academy of Pediatrics. "There are a number of serious complications."

…

In the case of the boy in the report, prospects looked grim. "My read on this is that he will have some type of permanent neurologic sequelae (consequences) from his disease," Tan said. "And it is possible that he might have another stroke if his arterial disease continues to worsen."
It's an incredibly sad story, especially since the parents could have prevented the stroke if they just listened to the experts. It's a warning to all of us of the importance of vaccines, and of remembering the dangers of mostly dormant diseases that used to be much more problematic. Let's hope anti-vaxxers listen.
Yours in Reason,
David G. McAfee (Support my work here)