A man who was arrested and charged with murdering a 23-year-old woman and putting her body in a recycling bin decided to sport a t-shirt with a Bible verse saying "Defend the weak" to court.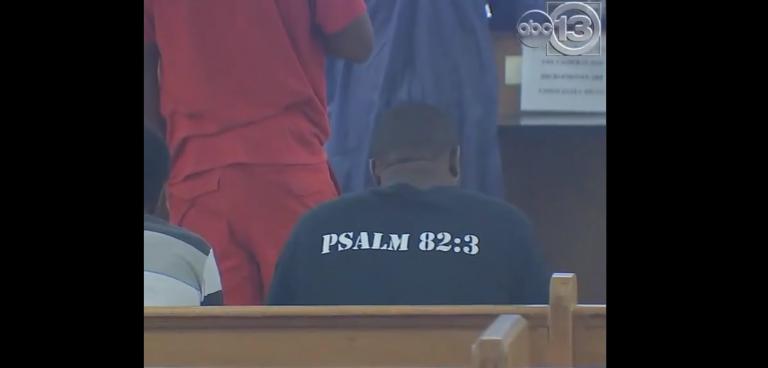 Bible Verse
Alex Akpan, a 24-year-old in Texas, was accused of killing young beauty stylist Irene Yemitan and stashing her body just a few days after meeting her. Then he wore a black T-shirt with the words "#Lightthefuture" and Bible verse "Psalm 82:3" to the court. Here's the full passage:
Psalm 82:3 New International Version (NIV)
3 Defend the weak and the fatherless;
uphold the cause of the poor and the oppressed.
Yemitan's body was found by Akpan's mother in the defendant's room, and all the evidence points to a violent strangling of a defenseless woman. Yet the shirt seems to indicate that he is the "weak" that needs to be defended, and that's completely ridiculous.
Finding the Body
Akpan only knew the victim for a few days before he allegedly killed her, according to local reports.
His court appearance provided the latest details in the slaying of 23-year-old Irene Yemitan, a student and aspiring beauty stylist involved in the Nigerian community.

Akpan's mother discovered Yemitan on Sept. 5 when she went to her son's bedroom to see if he was home, the prosecutor read in Harris County Probable Cause Court.

She saw a large recycling bin with the lid closed and noted that it wasn't normal for her son to have that in his bedroom, according to the prosecutor. The mother then lifted the lid and saw a human foot before she tipped the bin over and saw a woman inside.

Akpan's mother called her ex-husband to come over to her home in the 9600 block of Wellsworth Drive, near Bissonnet and Eldridge Parkway. They pulled the woman from the bin and attempted CPR, the prosecutor said.

They called 911, and officers arrived to find the woman on the dining room floor. Authorities pronounced her dead on the scene.
Previous Anger Issues
Akpan was eventually charged with murder, but not before being accused of tampering with evidence. He didn't give a statement to police, and witnesses don't give an incredibly clear picture of what was going on. We do get a glimpse into his anger issue, though.
A witness spoke with police on Wednesday and offered clues as to how Akpan and Yemitan were connected.

The witness told investigators that she was with Yemitan when they met Akpan at West Oaks Mall, and that Yemitan and Akpan had only been friends for a few days before she was killed. They were friends who exchanged texts and phone calls, she said.

Yemitan and her friend had gone to Akpan's house on several occasions, and were there just a day before Yemitan's body was discovered, she told investigators.

The witness said that Akpan became upset that day after Yemitan parked her car on the street, and he scared them both as he screamed, cursed and threw a chair, according to the prosecutor.
Whatever went down, we know it didn't end well. And we know Akpan is a hypocrite for promoting a Bible verse that says "Defend the weak" after murdering a woman. Only time will tell if the Bible is part of his defense.