A sculpture specifically built to help local wildlife has been destroyed with pickaxes and saws, all because a Muslim-run government arbitrarily deemed it to be offensive to Islam.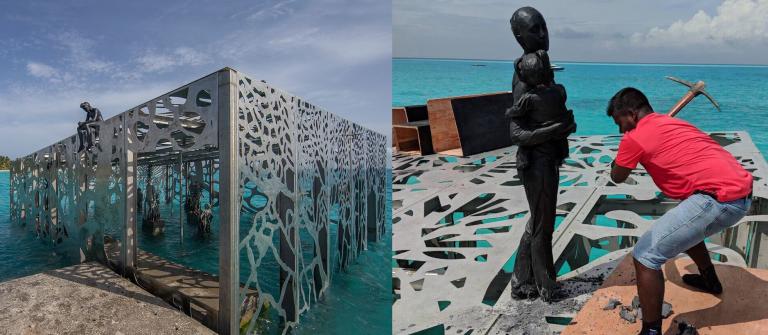 Religious Censorship
The piece of art, created by artist and environmentalist Jason deCaires Taylor, did not feature any forbidden depictions of Muhammad. Nor did it contain any insults about religion. In fact, it was extremely well done and would only serve to help the community in Maldives.
But the country's government, which lists Islam as its official religion, had the "Coralarium" destroyed after deeming it "anti-Islamic." The complaint they had was that the artwork depicted human figures, which is discouraged under Islamic law.
The government ordered the destruction of the artwork, after a court ruled it to be a threat to "Islamic unity and the peace and interests of the Maldivian state", the Maldives Independent reported, despite the authorities previously granting permission.
Religious extremists, including Islamic terrorists, kill people all the time in the name of religion. They also disrupt peace by inspiring fear in nearly everyone. Yet the government of Maldives thinks it is this piece of art, and not those horrifyingly violent acts, that is threatening Islamic unity and "peace."
Helping the Environment
The project by DeCaires Taylor, who is known for his underwater sculptures and galleries around the world, was commissioned by the Fairmont Maldives Sirru Fen Fushi resort, owned by the Accor hotel group, as an "intertidal gallery", and was completed in July. The large steel frame with cutouts aiming to mimic the marine world was intended to allow sea life to explore freely within, acting as a new habitat for coral and other species. Thirty human figures were positioned on top and inside the frame at tidal level, with others submerged beneath. The sculptures were based on life-casts of people, around half of them Maldivian, with some reimagined as hybrid forms including coral or root-like elements.
The sculpture even used pH-neutral steel, which is safe for use among marine wildlife, according to reports.
I guess I shouldn't be surprised that a government controlled by religion would destroy something that's both beautiful and beneficial to the local wildlife, but this is a great example of how rigid doctrines can actually ruin the world.
Sirru Fen Fushi resortgai hedhifaiva Coralrium gai insaanunge soora sifa vaagothah behettifaiva sculpture thah naga coralarium vany miadhuge 17:45 gai huskurevifai. pic.twitter.com/Yamgw4evCn

— Maldives Police (@PoliceMv) September 21, 2018
Artist's Response
The artist responsible for the piece was understandably upset by the government's actions.
"On Friday last week I was extremely shocked and heartbroken to learn that my sculptures have been destroyed by the Maldivian authorities at the Coralarium, despite continued consultations and dialogue," deCaires Taylor said. "The Coralarium was conceived to connect humans to the environment and a nurturing space for marine life to thrive. Nothing else! The Maldives is still beautiful, with a warm and friendly population, but it was a sad day for art and a sad day for the environment."
He is right. This is a sad day for art and the environment, as well as for religion in general. This was supposed to bring people and animals together, and instead it was crushed under the brutal fist of a regime based on outdated values. Hopefully we can stop similar theocratic atrocities in the future.
Yours in Reason,
David G. McAfee (Support my work here)