Leaked Bible study notes from a Nevada pastor's class show how he and many other Christians view the "Fear of the Lord" as something that will "bring blessings."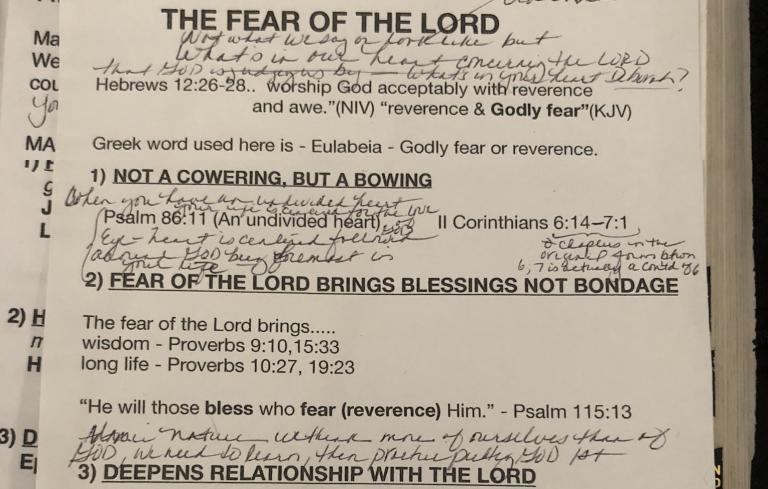 When I hear believers describe themselves as "God-fearing," I can't help but wonder why they would worship the same being they fear so much. But Pastor Rob Wright, of Abundant Grace Church in Las Vegas, tells followers that "godly fear" actually deepens a Christian's "relationship with the Lord."
In Bible study notes recently photographed and posted on Twitter by Jon Ollivierra, Pastor Wright explains that fear of God is "not a cowering, but a bowing."
These are my mother's notes left out from a recent Bible study class. A breathtaking example of the 'hold hostage' method of the Abrahamic religions in particular, as far as concerns free and critical thinking. @SkepticNikki @TheAtheistPig @TheOfficialPORP @SamHarrisOrg pic.twitter.com/JWr2iGBzaA

— Jon Ollivierra (@JonJonSande) September 2, 2018
Ollivierra told me the Bible study sheet was left out on the counter, and he quickly took a photo of it Sunday. He is "out" as an atheist to his mom, but they don't talk about religion much, he explained.
"On the rare occasion, she expresses her disappointment that I don't share her religion," he told me. "I do, sometimes, go with her to church just for company but we pretty much have an unspoken understanding that that's as far as it will go."
I tracked the worksheet to Abundance Grace, which lists Pastor Wright's experience and credentials:
As an evangelist Rob has ministered across the United States, Canada, Africa, England, and Haiti. He has spoken at over 400 Full Gospel Business Men's meetings, and has appeared on "CBN's 700 Club, "Praise The Lord'', and "Word of Faith" television programs. His personal testimony was featured in the June 1987 issue of "Guideposts" magazine, and he has written articles published in "Christian Life" and "Dove" magazines. Pastor Rob has been gifted with a powerful radio ministry through the years that began with a program heard daily on the "CBN Radio Network" with Pat Robertson.
Pastor Wright's worksheet is bad enough, equating fear with respect in a way that could encourage unhealthy behavior in relationships, but some of the notes she left from his class were worse. For instance, she wrote this rather threatening statement:
"When God speaks to you, you had better do as he says."
This document doesn't tell me much that I didn't know, but it is a modern look into the types of apologetics preachers use to convince their flocks of basically anything. By using these types of mental gymnastics, religious leaders all over the world have brainwashed people to believe that "fear" is a good thing to have for a loving Creator.
Fortunately, not everyone falls for this nonsense. And people like Ollivierra are helping expose those who push it on others.