At least one popular psychic in Los Angeles has been debunked, as she was recorded telling a transgender woman that she will have "many" pregnancies.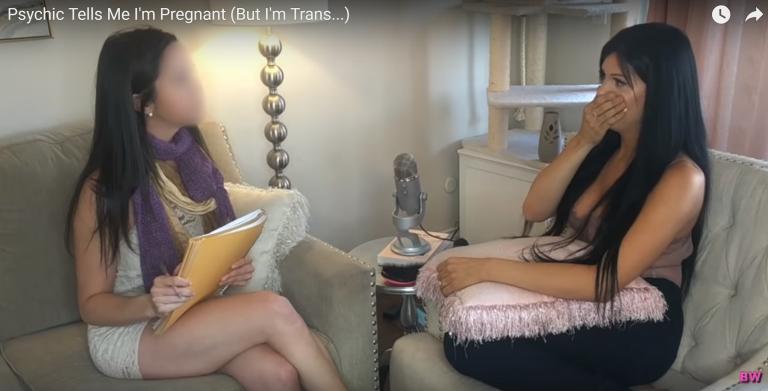 I had never heard of Blaire White, who provides social commentary and lifestyle videos on YouTube, but a reader sent me one of her videos the other day – and I was pleasantly surprised. The video shows White taking time away from her typical topics to expose a highly recommended psychic.
The psychic, whose face was obscured throughout the video, starts off talking about White's dog. She says it will serve as a "teacher" to White when she "eventually" has kids.
"She will teach you how to be a better mother," the psychic said. Then she asked White if she has "always wanted to have kids."
At this point, you might be thinking what I was when I first saw the video. "Well, she could be thinking about adoption." Unfortunately for the psychic, she then suggested White will have at least five kids and asked if twins ran in her family.
"There may be twins in your future," the psychic said.
If you still think the psychic hasn't definitively predicted White would get pregnant, pay attention. Because White's next question was the perfect way to get the psychic to elaborate further.
What is the pregnancy going to be like?" she asked.

"You're going to have many," the so-called seer told White. "The first one will be the easiest."
"
The psychic goes on to tell White that she will not get pregnant "for a while," and that she will raise her many kids "in the entertainment world."
White goes on to ask several other questions, but they weren't really necessary since she had debunked the psychic just a few minutes into the paid "psychic" reading. White proved that this psychic couldn't see into the future, and that she was instead using vague generalizations as a means to convince her mark that she had supernatural abilities.
Political Commentary
Some of you might recognize White as a conservative political commentator, and that seems to have been true in the past, but she announced recently that she was leaving politics. Regardless of her motivation for the change, I'm glad to see some interesting apolitical content from her.
Whatever her political beliefs may be, she is a skeptic when it comes to psychics, and she decided to put one to the test. If you want to watch her video, you can do that here:
Stay skeptical!
David G. McAfee (Support my work here)