Theresa Caputo, a celebrity "psychic" and host of the Long Island Medium, is having a really tough time.
Not only is Caputo going through a divorce, which has caused stress in her life, but she's also recovering from a recent successful knee surgery. To make matters worse, she was flipped off at a recent show and decided to kick out the audience member.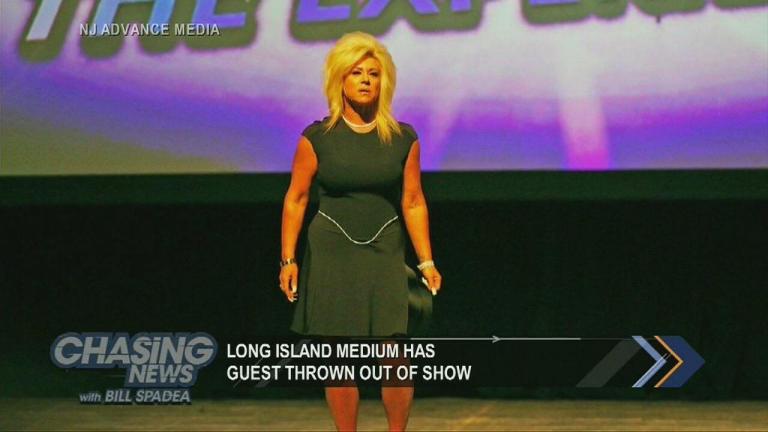 Caputo was giving a particularly sad reading, offering vague words to two separate women who each knew a man who had killed himself – one was a boyfriend and the other a husband. They competed with each other to claim Caputo's words were meant for them, until there was an interruption, according to NJ.com.
The women with the suicides competing for Caputo's messages had me feeling bad. They were vulnerable. Grieving. Eager to validate.

Then, as Caputo tried over and over to get someone in the orchestra area to acknowledge a murder where evidence was mysteriously moved, a woman three tiers up in the back started yelling.

"It's up here!" the woman said, waving her arms wildly. "Right here!"

Caputo tried to stay cool, making jokes about how she wishes she could be like Oprah where "You get a reading! And you get a reading!" but that "spirit" tells her where to stand. There was no way she was going up there.

When the woman shouted again, Caputo scolded her, saying it was very distracting, and the audience applauded.

And that's when the woman flipped her off.

Caputo reacted instantly.

"She just gave me the finger!" she yelled. "Get the f*** out! Get her the f*** out!"

The woman tried to sit down but eventually was forced out. As she left, Caputo quipped: "See, God don't like ugly."
Yep, Caputo yelled "Get the f*** out!" to an audience member who just wanted her help – and then called her ugly to God. I couldn't find any video of that occurrence, because Caputo forces people to put away their phones during her presentations, but it has been verified by several people who were at the event.
The audience member, Lisa Marie Digrazia Mitchell, spoke about the interaction with Bill Spadea of Chasing News. She explained that she went to the New Jersey show because she wanted to talk to her mother, who died.
"I knew it was a longshot, that she would actually pull anything out, but I believed in her after a couple of shows I'd seen."
Apparently, because she was in the "cheap seats" in the back, Caputo wouldn't help her.
"What she started saying was that she was channeling someone's mom who had passed away, and then she started to talk about some numbers that were related. I happen to have a tattoo on my back with her birthday – the only numbers I have tattooed."
Mitchell apologized for flipping off Caputo, but said the medium scolded her in front of anyone and said the spirits didn't want her up there. She said she still believes in "mediums," but doesn't believe the spirits would only go to the front row.