Just days after an anti-Semitic Christian killed 11 Jewish people in a synagogue in Pittsburgh, an unknown suspect spray-painted a Southern California temple with the words, "F*ck Jews."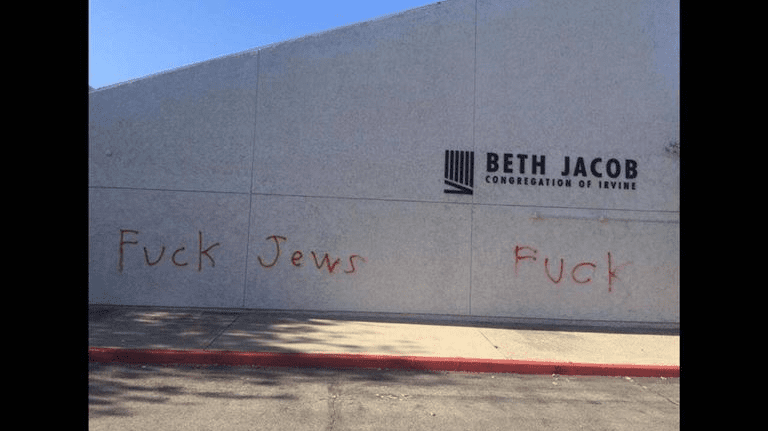 Beth Jacob Synagogue in Irvine was attacked overnight on Tuesday, and police are now searching for the criminal, according to local reports.
The vandal spray-painted "(Expletive) Jews" on the synagogue, said Rabbi Yisroel Ciner. "Members of the Christian, Mormon and Muslim communities reached out to me after the horrific incident in Pittsburgh offering their support and solidarity," Ciner said. "We are saddened that such hate exists everywhere and even in our backyard."

Beth Jacob Synagogue President Allen Berezovksy says he came to the United States from the Soviet Union escaping anti-Semitism. "To find it [anti-Semitism] here in America, in Irvine of all places, is unthinkable," he said. "It makes me very sad."

Irvine police "are fully engaged in trying to find the perpetrator and to ensure the safety of all groups," Ciner said. "We're a resilient group and we're not going to let some fanatic affect us," he said. Allison Edwards, CEO of the nonprofit group OC Human Relations, encouraged citizens to report hate crimes and incidents.
It's nice to see authorities taking this hate crime seriously. Police have already released a security cam video that shows the masked vandal spray painting the building, and then leaving the scene on a stolen bike.
Based upon the preliminary investigation, it appears the vandalism at Beth Jacob Synagogue occurred during the early morning hours of October 31. Anyone with information on this case is asked to contact Irvine PD Detective Dave Tran at 949-724-7098. https://t.co/HSRHYWeIpQ pic.twitter.com/wjuVhVN6zR

— IPD (@IrvinePolice) October 31, 2018
This is an odd crime in Irvine, but authorities are taking it seriously and the community is thoroughly involved, according to the Times of Israel.
Police spokeswoman Kim Mohr said the suspect has not been identified and patrols had been increased at all Jewish facilities throughout the city, located in Orange County.

"This is an unusual attack," she told AFP. "It is not a normal thing to have this type of crime in Irvine."

According to a report released in September by OC Human Relations, a nonprofit, hate crimes have continued to climb in Orange County, the third-largest of California's 58 counties, for the third straight year.

It said 56 hate crimes and 94 hate incidents were reported countywide in 2017.
It isn't surprising that anti-Semites would feel emboldened after the recent devastation in Pittsburgh, but it's still sad to see this right here in Southern California. I hope the criminal is apprehended and that the members of that synagogue get some security and closure.
Yours in Reason,
David Gee