A Chicago pastor recently booted a member of his own church from a service for not wearing "man clothes," telling them he "will not let drag queens come in here."
Pastor Antonio Rocquemore of Power House International Ministries has defended his decision to kick out an unnamed church member who was apparently wearing a wig and heels. The pastor and so-called "prophet" posted a video of the full sermon online, after which a shorter clip of the confrontation went viral.
In the clip, Rocquemore can clearly be heard telling the church member to step out into the aisle before asking them to leave and then ridiculing them further.
"Can you leave my church and go put on man clothes? And don't come here dressed like that no more. I hold a standard in here. Whatever you do on the outside is your business, but I will not let drag queens come in here. If you're gonna come in here, you're gonna dress like a man."
Rocquemore went as far as to say that allowing the church member to dress like a woman risks his "salvation."
"My salvation is more important, and God is holding me accountable. Now whatever you do outside these doors, I don't bash, I don't judge, but when you come in here, you will not be a drag queen."
Receiving praise and support from the rest of the crowd, Rocquemore goes on to say that the "Holy Ghost" told him a "drag queen" was sitting in his audience with a wig on, and he couldn't handle it.
"You will not be wearing wigs and heels, and foolin' people up in here. You can fool people, but see, I've got the Holy Ghost, for real. I can pick your spirit up in the back of the church … he was bothering my spirit and I hadn't seen what he had on."
The fact that Rocquemore specifically said the church member couldn't "fool" him, and that it "bothered" his spirit, leads me to believe that this issue comes from deep within this pastor's broken psyche. There is no evidence to suggest the church member was trying to "fool" anyone, and reports aren't even clear on whether they were a drag queen or a trans woman.
All we really know is what we see in this clip: Rocquemore kicked out a church member, who he says joined several months ago, for not wearing clothes for men. We also know that the pastor doubled down on his offensive comments in a response video.
been a member of the church for several months.

"He is, I repeat, he is not a stranger off the street," the pastor said in his video. "I heard somebody say he was a visitor and he came in off the street and we lost a soul. See, that's not accurate information.

"He is a full member of the Powerhouse International Ministries. He's a member of Powerhouse .. I think he joined earlier in the year."

He also said he did not ask the man to leave because he is gay.

"First of all, anybody that know me … I don't bash nothing," he said. "The reason why I don't bash nothing because when you start bashing things then you're separating them. I don't separate sin. Sin is sin."
He said the young man at the worship service had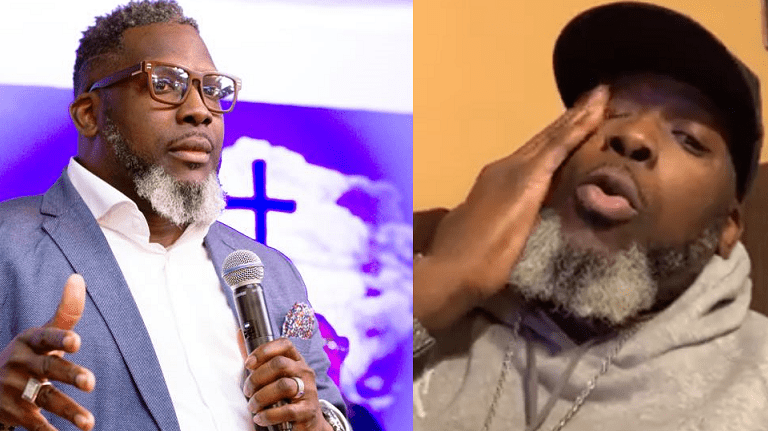 If a sin is truly a sin, and there is no separation, then he is a hypocrite. If he kicked out every single member of his church who sinned, there would be no one to watch him rant and rave about his supernatural friend. He would have to kick out anyone who eats shrimp, or wears clothes of mixed fibers, or even anyone who has looked longingly at a neighbor's prized possessions.
That's not even possible, so this particular pastor decided to take the lowest road available. He decided to ridicule and attack an already vulnerable person, probably to boost his ratings.
It's working, too. Rocquemore is getting a lot of support from the Christian community, including several religious sites. Hopefully more people start to see that this type of bigotry against the LGBTQ+ community should never even be tolerated.
Yours in Reason,
David Gee