Two more women, including a fellow astronomer, say Neil deGrasse Tyson is guilty of inappropriate sexual conduct.
Dr. Katelyn N. Allers, Associate Professor of Physics and Astronomy at Bucknell University, told me that she was "felt up" by Tyson at an after-party following a meeting of the American Astronomical Society (AAS) in 2009. AAS didn't have a mechanism for reporting sexual harassment at the time, but Dr. Allers says she probably would report the incident if it had happened today.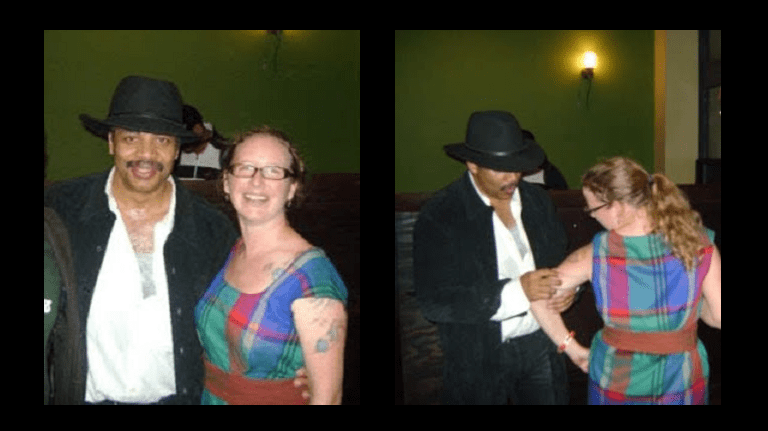 The groping incident allegedly took place at an after-party following the AAS meeting in 2009, which took place in Long Beach. This was supposed to be a lighthearted social event to show that astronomers could have fun, according to Dr. Allers.
"Tyson was there, and he was dancing and drinking and all of that at the party, so a friend and I decided to get pictures with him," she told me.
But after the first picture was taken (above, left), Tyson decided to explore Dr. Allers' tattoo. It features a realistic solar system that stretches from her arm to her back and collar bone area.
"After we had taken the picture, he noticed my tattoo and kind of grabbed me to look at it, and was really obsessed about whether I had Pluto on this tattoo or not… and then he looked for Pluto, and followed the tattoo into my dress."
Dr. Allers said her experience was public and didn't rise to the level of assault, but that it did show Tyson was capable of some "creepy behavior."
"My experience with him is he's not someone who has great respect for female bodily autonomy," she told me in a phone interview.
Prior Report
Dr. Allers couldn't have reported the alleged incident to AAS at the time, but she didn't keep quiet about it, either. I confirmed with Dr. Michele Thornley, an associate professor of physics and astronomy at Bucknell, that Dr. Allers told her about Tyson's behavior in 2013 when he was scheduled to speak at the University.
"Yes, Katelyn spoke to me about her earlier incident–I don't think we discussed exactly what year it happened, but I knew that it was a few years earlier than our conversations about the matter. Katelyn described the earlier incident to me in the fall of 2013, after she was invited to attend a dinner with Dr. Tyson when he was to be on campus in spring 2014 as a speaker in Bucknell's "Tech/no" series. I had recently served on a university committee with one of the organizers of the series, so I arranged to meet with that person and indicated privately that Katelyn did not wish to attend the dinner, and spoke in general terms the reasons why. At that time, Katelyn expressed that she did not want to pursue the issue more publicly (e.g., broadly inform the organizing committee, or try to get the invitation to speak withdrawn), so I talked with the organizer privately about two things: (1) to be sure that Katelyn was no longer expected at dinner, and (2) some general recommendations to avoid having female students meeting with him in small groups without additional members of the community present."
Dr. Allers didn't feel like she was in danger during her encounter with Tyson, but she did describe it as "uncomfortable and creepy." That interaction also made her think twice about allegations brought by Tchiya Amet, a musician who says Tyson raped her in his apartment when they were grad students together.
"I think that he is someone that could use his position of fame and power in a way to try and take advantage," Dr. Allers told me.
Another Allegation
As if this allegation wasn't shocking enough, it came within days of my interview with Ashley Watson, a former assistant to Tyson who says she was forced to quit her job due to his inappropriate sexual advances.
Watson worked directly with Tyson for several months. She says that, during that time, he put her in an uncomfortable situation by attempting to persuade her into sex, and demonstrated his "predatory tendencies."
In hindsight, there were red flags that she "chose to not pay attention to," Watson told me in an interview.
Specifically, Watson said Tyson occasionally made "misogynistic comments," and that he kept a list of overweight actresses on his phone to prove that women aren't inhibited by portrayals in the media when it comes to health and fitness. He allegedly said it was untrue that women feel pressured to be skinny based on societal standards.
Interaction With Amet
Watson says she doesn't know whether or not the serious allegations put forth by Amet are true, but that she sent her a message of support after her encounter with Tyson anyway. I obtained a copy of that message, which has been redacted to protect Watson's privacy.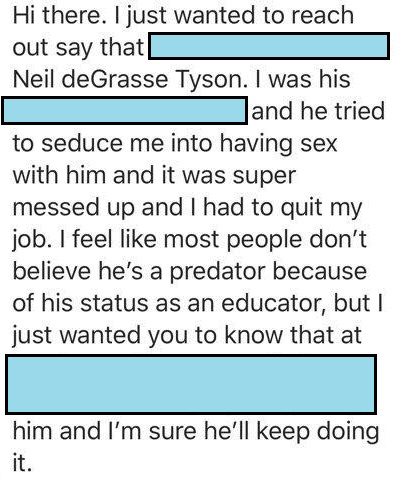 His Apartment
Watson says she had been working directly under Tyson, who called out Trump in 2016 by saying he would grab him by the crotch when they met, and that they got along well. That all changed, however, when he invited his underling to his apartment at around 10:30 P.M. to "share a bottle of wine" and "unwind for a couple of hours."
Watson, who said she felt pressured to impress her superstar boss, told me she agreed to come in for a glass of wine instead. Upon entering his apartment, Tyson allegedly took off his shoes and shirt, remaining in a tank top undershirt. Unfortunately, the night only got more awkward as Tyson, who is married, reportedly put on romantic music and replayed the most graphic parts.
She says Tyson soon brought out a cutting board and a knife to cut blocks of cheese that he decided they would share. But before slicing the snack, he allegedly gestured toward her with the knife and made a comment about stabbing.
Watson says she took the comment as a bad joke, but it's important to note that this type of "joke" is exactly what people in power need to keep in mind when dealing with subordinates. And it set the stage for a night filled with subtle intimidation and sexual advances.
"It was definitely a very weird power move," she said.
Inappropriate Approach
Watson says Tyson started talking about how every human being needs certain "releases" in life, including physical releases. He reportedly mentioned how difficult it had been for him to be away from home for several months.
Watson says Tyson asked her if she needed any releases, and she responded with a story about sexual harassment she endured in the past. It was a smart way to diffuse a tense situation, but she says he was unfazed.
"It was like talking to a wall," Watson said.
She was getting up to leave when Neil allegedly stopped her, saying he wanted to show her a "Native American handshake" he knew. That involved holding hands tightly, making eye contact, and feeling for each other's pulse, Watson told me.
When she broke off the awkward and incredibly intimate handshake, which he allegedly said represented a "spirit connection," she attempted to just get up and leave.
Tyson then allegedly put his hands on her shoulders, and said he wanted to hug her, but if he did, he'd "just want more."
Watson says she left Tyson's apartment quickly after the inappropriate sexual comments and that, the next day, she confronted him because she felt he had betrayed her as a mentor. He reportedly told her in that meeting that she'd never rise through the ranks in her career because she was too "distracting."
She Reported It
Watson says she decided to quit after the negative interactions with Tyson, and that she told the story to at least one supervisor in hopes that he wouldn't hire more female assistants for the astrophysicist. That person reportedly supported her decision to quit, and said she should tell everyone she had a family emergency to avoid more uncomfortable situations.
Watson also reported the event to a relevant harassment hotline, according to a message she sent to Amet.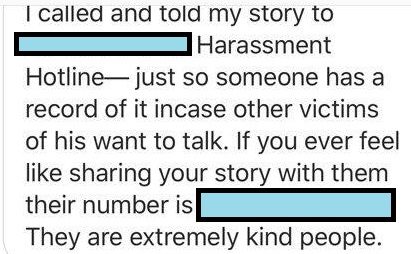 Tyson didn't return my request for comment Nov. 29.
If you have any information that can contribute to this developing story, or have any questions for me, my email is davidgeecontact@gmail.com.
Reasonably Yours,
David
David G. McAfee is a journalist and author of No Sacred Cows: Investigating Myths, Cults, and the Supernatural. McAfee, who writes about science, skepticism, and faith for his No Sacred Cows blog on the Patheos network, attended University of California, Santa Barbara and graduated with bachelor's degrees in English and Religious Studies with an emphasis on Christianity and Mediterranean religions.