We reported two days ago that We F*cking Love Atheism, a huge Facebook page for atheists, was shut down. Well, unlike Jesus after being crucified, it's officially back!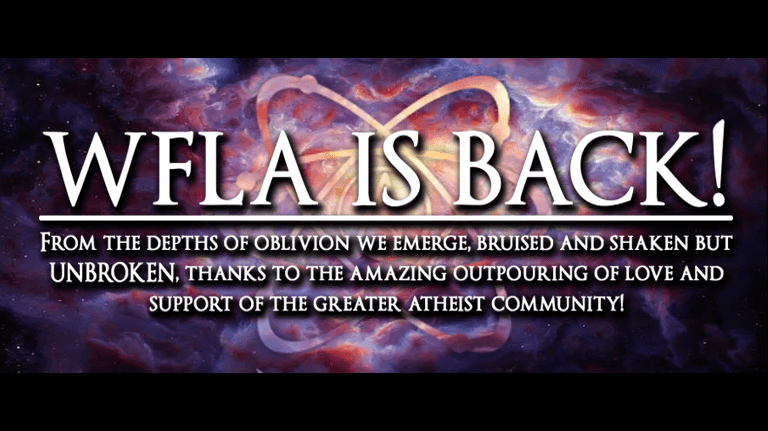 WFLA's admins set up a petition to encourage Facebook to reverse its decision to "unpublish" the page, but no one knows why the move was reversed. Much like it did with the initial ban, Facebook neglected to explain its reasoning.
It seems like the page was the target of a reporting spree that led to its removal despite the posts being benign and published several months before.
We may not know why the page is back, but it is, and its admins have helped countless non-believers transition to a secular lifestyle while maintaining a sense of community. That is something to celebrate!
Here is a statement from Kat and LJ of WFLA.
We are BACK! On November the 4th, WFLA was shut down by Facebook without reason or notice. There was zero communication from Facebook, just a generic message stating we'd violated their page policies. Almost immediately, this amazing community of ours rallied around us, and gave us the strength to fight this! We have received overwhelming support from our peers, and within 72 hours, more than 5,200 friends, fans and supporters signed our petition calling for our community page to be reinstated! We would like to personally thank each and every person that signed our petition, and everyone who left us wonderful and supportive comments on our sister page We Love Atheism. We would like to send an especially massive THANK YOU! to David G. McAfee, for telling our story, and helping us spread the word and fight back! We'd also like to thank The Thinking Atheist, Atheist Republic, Religion Poisons Everything, National Secular Society (UK) and the countless atheists here and on twitter, who shared our petition and gave us their support! Words are inadequate to express just how much your love and support has meant to us! THANK YOU ALL SO MUCH! – Kat & L.J.
Aw, well thank you two, too!
Yours in Reason,
David Gee