I recently learned that a megachurch (they say they aren't one) is planning to build a 15-acre facility in my small town, and I need your help to stop it.
Sonrise in the Woods, a massive church-owned "recreational resource" planned for Easter 2020, would be devastating for the mountain environment and our local residents alike. The Church of the Woods construction project is currently in progress in Rimforest, Calif., which has a population of just 400 people at last count.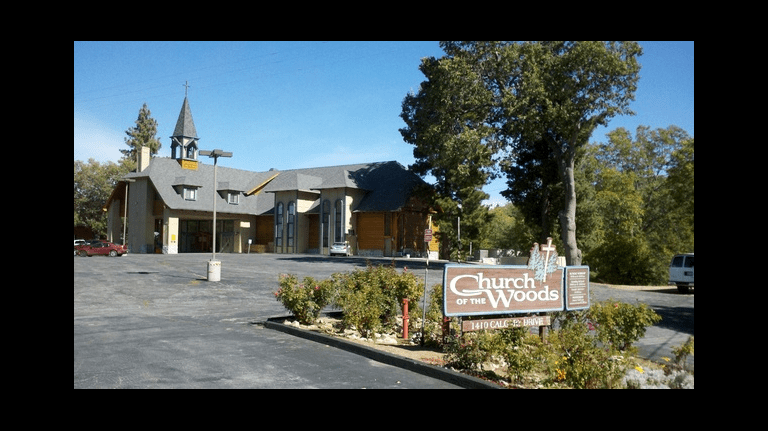 These 400 people do not need a massive Christian megachurch. Fortunately, there is still some time to stop this plan, and locals are speaking out.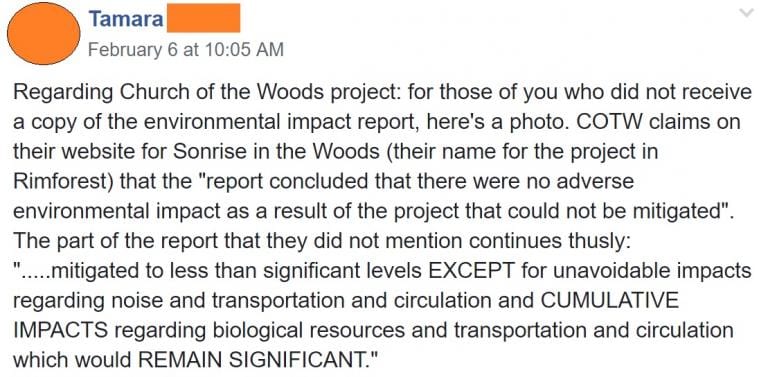 Here's the posted image of the report: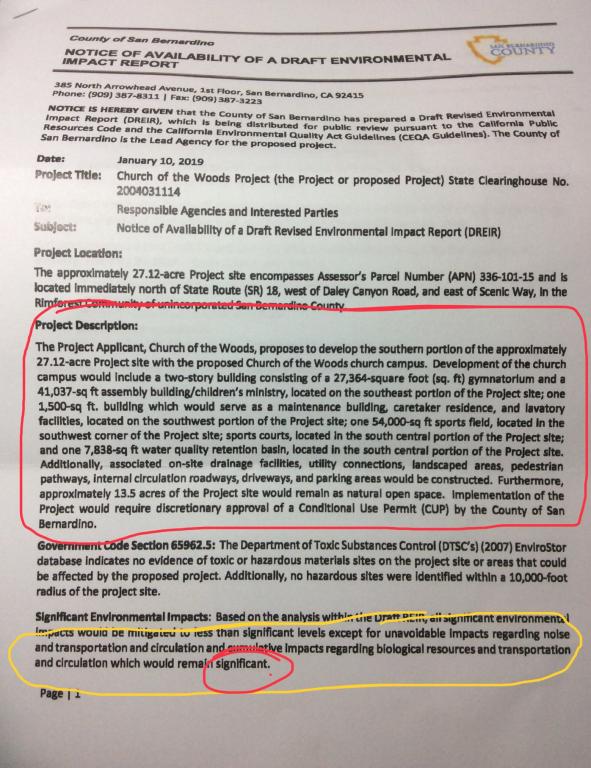 To be clear, I'm not asking for your money here. In fact, this church has been criticized for its emphasis on material objects and expensive mountain getaways. What I am asking for is simple: an email to the county planner.
On the church website, Pastor Rod Akins is encouraging their massive membership base to send "positive comments" about the project to the county planner, named Tom Nievez. He even went as far as to provide a template:
Dear Mr. Nievez,

Please accept this comment letter on the Church of the Woods Draft Revised Environmental Impact Report (SCH No. 2004031114). We are excited to see this campus developed and enthusiastically support it because of its multiple social benefits, which include, but are not limited to:

It provides much needed resources for our whole mountain community with ball fields, a place for youth to hang out and find healthy recreation, family-friendly playgrounds for kids, meeting rooms for people to use, coffee shop to relax and fellowship, an amphitheater for events and an accessible staging area for emergency needs of firefighters and first responders (if necessary).

It brings a new church campus that includes worship facilities for spiritual impact of biblical truths, a youth center with a multi-use gymnasium, children's ministry rooms with age appropriate playgrounds, outdoor courts for fun activities and a sports field to play soccer or baseball.

It will give relief of the space constraints in the current residential area of the existing Church of the Woods facility.

This project will capitalize on the beauty of our mountain and honor the environmental ambiance of our forest area.

It offers various public groups a place to gather, practice, use and enjoy. Overall, this project would greatly benefit not only the Church, but also the entire San Bernardino mountain area. Thank you for your time and consideration.
I do agree that this church will "capitalize on the beauty" of our incredible mountain, but I don't think this would benefit anyone else other than church members and leaders. The feedback from locals has been decidedly negative, including from Christians who think a megachurch goes against their Holy Book, so this is clearly not something that the people want.
I won't go as far as to tell you what to say, but if you'd like to help out, I'll tell you how to reach the county planner. Please send any comments on this matter to Mr. Nievez at Tom.Nievez@lus.sbcounty.gov.
I'm sending my email to him right now!
Yours in Reason,
David