Hundreds of anti-vaxxers protested on Friday in Washington because lawmakers were publicly considering a measure to make it harder to opt-out of mandatory vaccines in response to a measles outbreak.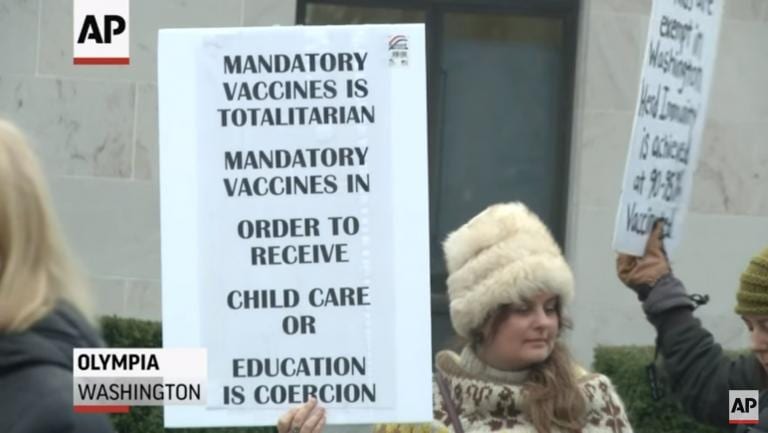 The outbreak has infected more than 50 people in the Pacific Northwest, and anti-vaccination activists are trying to make things even worse. They are protesting a bill that would remove the personal or philosophical exemptions for the combined measles, mumps and rubella (MMR) vaccine (the same one that has been falsely linked to autism by Jenny McCarthy and other celebrities), according to the Associated Press.
Hundreds of people opposed to the measure lined up more than an hour before the start of the hearing before the House Health Care and Wellness Committee, many wearing stickers with the bill number, HB 1638, within a crossed out circle.

The bill comes as health officials have reported at least 52 known cases in Washington state and four in Oregon. Most of the Washington cases are concentrated in Clark County, just north of Portland, Oregon. The measure is sponsored by a lawmaker from that region, Republican Rep. Paul Harris of Vancouver, and has the support of the state medical association and Gov. Jay Inslee. Inslee declared a state of emergency last month.

Harris said people in his area are "concerned about our community, its immunity and the community safety."

The measure does allow proof of disease immunity through laboratory evidence or history of disease to substitute for immunization.
This actually sounds like a great bill, especially since you can present proof of immunity as a substitute for the MMR inoculation. And it's necessary right now in the Pacific Northwest, since a rise in hipster anti-vaxxers has contributed to the emergency.
The current law allows people to exempt their kids from vaccinations based on nothing but personal beliefs, which is ridiculous.
Currently, the state allows school-vaccination exemptions for children at public or private schools or licensed day-care centers based on medical, religious and personal or philosophical beliefs. Unless an exemption is claimed, a child is required to be vaccinated against or show proof of acquired immunity of nearly a dozen diseases — including polio, whooping cough and mumps — before they can attend school or a child care center.

John Wiesman, the secretary of the state Department of Health, said the effort to limit exemptions is "about safe schools and protecting vulnerable children."

Wiesman told the panel that compared to other outbreaks in the state in the past decade, "the outbreak we are dealing with right now is larger and infecting people faster than recent history."
That is terrifying news, but there's also a way to fix it: listen to the experts and protect ourselves through reliable vaccinations.