The notorious anti-LGBTQ group Westboro Baptist Church sent three protestors to a California high school to protest, but they were overwhelmed by students and activists who formed a 270-person "rainbow dance party."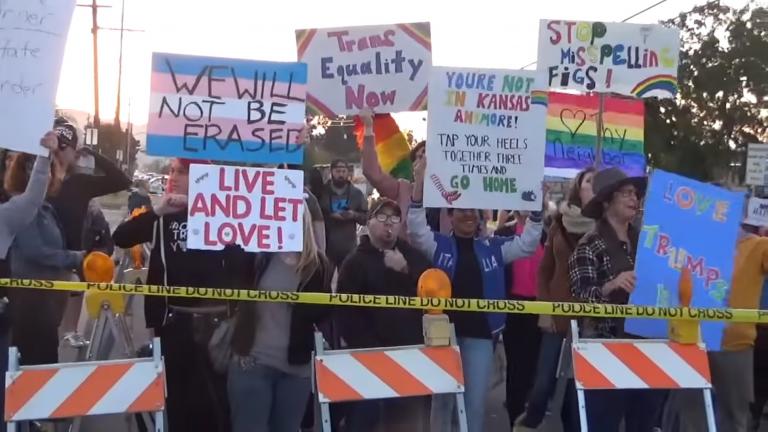 One of the counter-protesters was Don Burdette, an Iraq War veteran whose transgender son attends the school, according to Times of San Diego.
Don Burdette of Spring Valley says he grew up a religious person, but he wasn't buying what the anti-LGBT Westboro Baptist Church was selling Monday morning…

One of his three children attending the largely Hispanic school is transgender — Miles, a 15-year-old freshman.

"I just feel like God doesn't hate — in any way or fashion," he said, wearing a multicolored "Born this way" cape.
Burdette was one of hundreds who came to the high school to represent equality with songs and cheers in response to the planned Westboro Baptist Church protest. The only problem is that only three WBC representatives decided to show up and sing a homophobic version of Macklemore's song, "Same Love."
Only three members of the church paid half-hour visits to Monte Vista High and, earlier, Mideastern-student heavy El Cajon Valley High School.

Shirley Phelps-Roper, the 61-year-old daughter of the late church founder Fred Phelps, came from Topeka, Kansas, with her daughter Rebekah, 31, and son Luke, 16 — each carrying four signs and singing anti-gay tunes as rap music played.

Six had been scheduled to come — El Cajon police set up a 20-by-50-foot "free speech zone" for them — but Phelps-Roper said: "We had to send a team to Washington, D.C., and we have to have people going all over. … So we roll with it."
They may have tried to roll with it, but when the massive counter-protest overwhelmed them, they left. It was anticlimactic.
El Cajon Mayor Bill Wells, watching the Topeka trio, said: "Definitely much ado about nothing."

Though a lot of people try to stir things up in his city, he said, "one thing I can tell you: It never works." He called the 100-member "Rainbow Dance Party" counterprotest in a separate area peaceful and unified.

Despite having to deploy 20 police officers (including school resource officers from other campuses), Wells called the expense "the cost of doing business in a free society," but: "I would like to give them a bill."
They should have to pay.
This enormous turnout is part of a larger trend when it comes to the Westboro Baptist Church protests. Earlier this month, the infamous anti-LGBTQ+ hate group was drowned out by hundreds of metalheads playing kazoos loudly.
And this is exactly how this should work. WBC can be defeated, but not through hate and violence. It has to be through unity and love.