In 2010, in response to the Tea Party, I created a group and page based on evidence-based politics. The Party of Reason and Progress remained little more than a Facebook presence until 2016, when I announced an expansion and created a 527.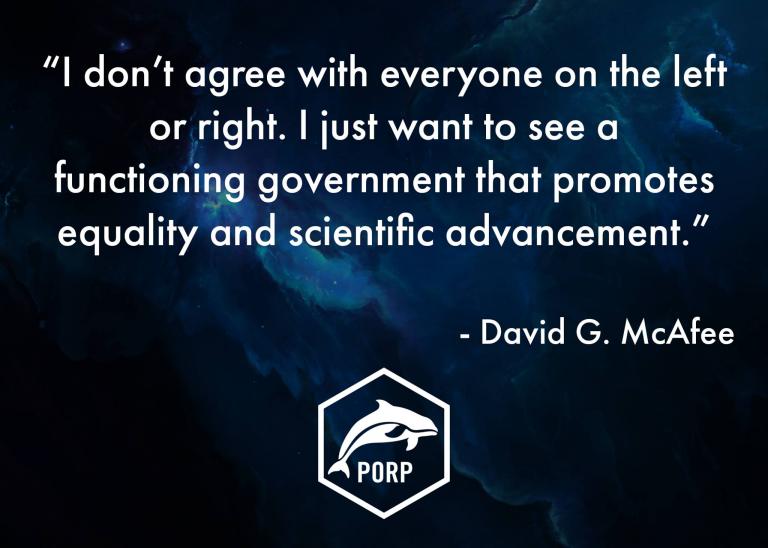 I worked with dozens, maybe hundreds, of people to make the "Party" of Reason and Progress what it eventually became, before it was changed to the "People" of Reason and Progress despite my repeated objections. Regardless, we started from nothing, with just a Facebook page (that I created in 2010) and a Twitter account.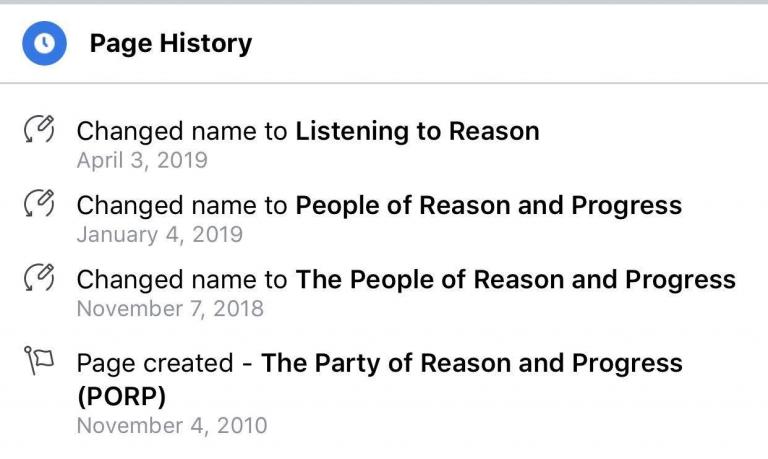 Perhaps Dan and the other hijackers thought that I created this page in 2016, but the public records show I made it 7-8 years before I ever even met them. They had no right to seize it.
On Tuesday night, I was removed from social media roles by people I regrettably entrusted to admin the pages. These are pages that ultimately became verified thanks to my promotional efforts.
I received no notice that my admin rights were going to be removed – just an email from Facebook letting me know the change had already occurred. Several minutes later, I received an email from other members of the leadership (Dan and one other guy he picked after our previous volunteer leadership team resigned) indicating that they were resigning… and taking my pages with them in the process.
Here's the letter they sent, with breaks for my responses:
Dear Mr. McAfee,

We are writing to you today to inform you of a series of decisions that we have made regarding the People of Reason and Progress (PORP). The minutes for a meeting where these decisions were made have been sent alongside this document.

First, we have decided to create our own organization that is entirely independent of PORP. This organization will be dedicated to supporting and cross-promoting the voices of Americans who care about reasonable, evidence-based policymaking. We intend to notify members of the PORP community of the creation of this new organization and to invite them to join us.
I don't have a problem with anyone taking the "PORP" idea and creating their own groups. The more people out there supporting evidence-based politics, the better!
Second, by leadership board majority rule and by Dan's authority in overseeing PORP's outreach, public relations, and written content, the control of PORP's Facebook page, Twitter accounts, and Instagram accounts has been ceded to this new organization. Additionally, this new organization has been given permission to access and archive all content written on behalf of PORP.
This is what really bothers me. It's true that I stepped away from day-to-day activities of PORP more than a year ago, instead ceding my chairmanship to Dan, but that does not give them the right to gift my assets to their new organization. The Facebook page and Twitter account were both verified thanks to work put in by myself and others who were around long before the Dan and the board he appointed by himself.
This was a power grab. Plain and simple.
Fourth, we hereby resign our positions and all affiliations with PORP, effective the date and time of this letter. We are resigning on account of your repeated failures to fulfill your pledged responsibilities to the organization – namely maintaining the financial assets and legal paperwork of the 501(c)(4). We also resign in protest of your repeated attempts to subvert the substantial social media presence of the organization for your personal financial gain, while simultaneously neglecting your aforementioned financial and legal responsibilities.

Both the People of Reason and Progress, as well as the still-intact Party of Reason and Progress, are under your full operational control.

Sincerely,

Dan Evans and David Kelly
This part is completely ridiculous. Until late last year, we had a Chief Financial Officer who was supposed to be in charge of filing paperwork for the group. When he quit, we all (including Dan) learned that the former CFO hadn't filed certain documents relating to the 527. That ex-member also failed to file the starting paperwork for the nonprofit, a move which I had opposed in the first place.
I agreed to take temporary control of the financial side, but I made it clear that it couldn't be permanent. I just can't do it. That's why I said up front that I needed assistance, and reiterated that as recently as January.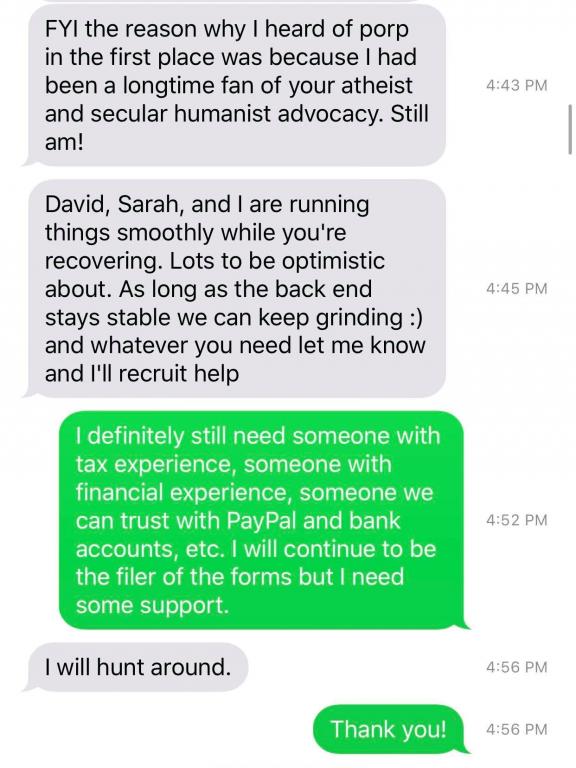 Despite my repeated attempts to secure help, none was there. So I did the work. Dan Evans and David Kelly say that I failed to maintain "legal paperwork of the 501(c)(4)," but the fact is that I filed the necessary papers. Here's the proof, which they were sent: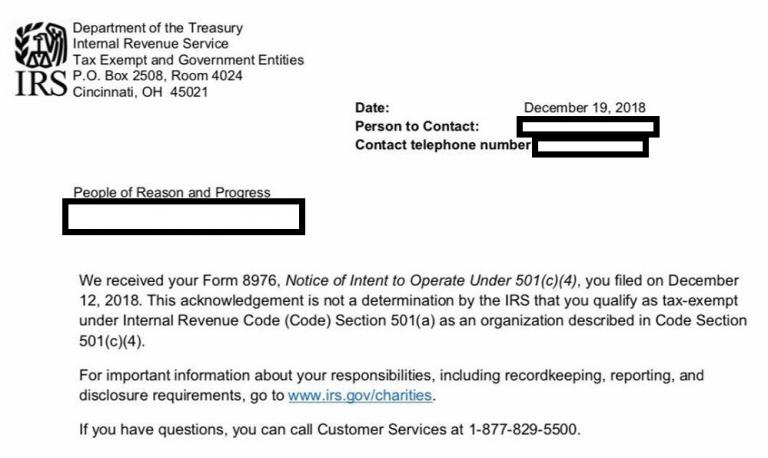 I still haven't heard back from the IRS since I submitted this form, which is why the nonprofit's PayPal was limited (it required a certificate of good standing of nonprofit, which I have still not yet received). Not because I hadn't done my job – but because the IRS hasn't yet responded.
As far as me attempting to "subvert the substantial social media presence of the organization" for my own financial gain, I just have to laugh. I haven't been involved in posting anything – let alone my own articles – for more than a year. I have, however, occasionally sent relevant articles to Dan if I thought the page would benefit from posting. In the rare cases that they chose to share the articles, that was up to them.
I don't want to anyone to think I am saying I worked harder than anyone else in the organization. That's not true. Some of these organizers and volunteers who have been with us since the beginning have done much more, and that's who I feel bad for in this situation. We let them all down by failing to be reasonable even among ourselves, and that's just ridiculous.
The fact is I consistently told everyone in leadership that, ideally, the group would run well without my everyday presence. I'm extremely busy, and we had enough volunteers that things seemed to be running pretty smoothly. At least that's what I was reassured by Dan in late January when I injured my thumb by typing too much.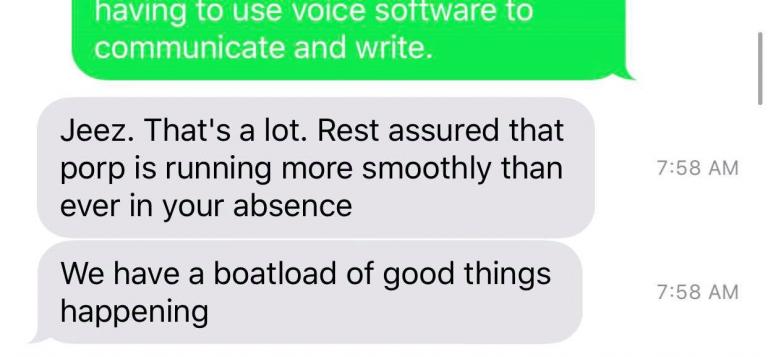 In summary, I had no idea that this plotting was going on behind my back, as I was just trying to keep my head above water. One day I'm told everything is fine, and the next day they have stolen a page I created in 2010.
After all of the drama, I received a second letter from Dan and the others, this time saying they were giving me access to the social media pages once again. That being said, I still have no admin rights to the Facebook page, and the Twitter profile lost its valuable verification when the hijackers changed the handle (knowing that it would permanently become unverified).
So, what happens from here? For starters, I'm working with a lawyer to appropriately dissolve PORP in all its legal forms, which means it will once again be a social media entity known as "the Party of Reason and Progress." If you are currently donating to PORP, please cancel those subscriptions. If you want to support me personally, as well as my efforts to regain what was lost here, you can donate on Patreon: https://www.patreon.com/DavidGMcAfee
Thank you all,
David