A woman in Tennessee says she was left with severe bruises after her chiropractor performed a dangerous "cupping" procedure for twice as long as intended.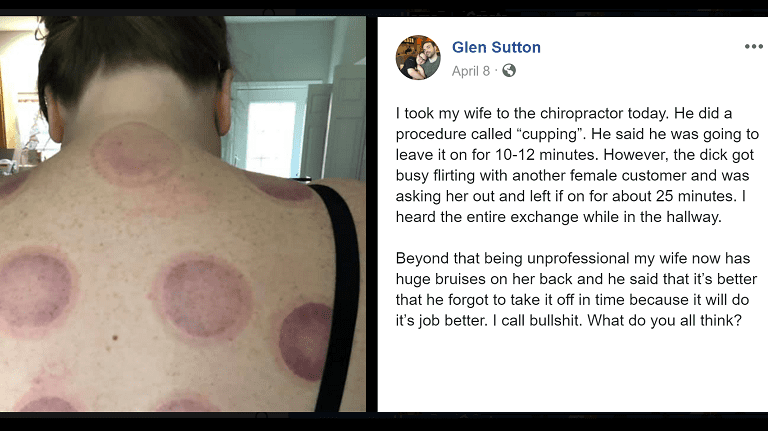 On Monday, web designer Glen Sutton posted about his wife's recent cupping experience on Facebook. The process involves putting suction cups tightly on the skin, which can sometimes be quite painful, and leaving them for extended periods.
He said the chiropractor accidentally left the suction cups on for 25 minutes instead of 10 to 12 minutes.
"I took my wife to the chiropractor today. He did a procedure called "cupping". He said he was going to leave it on for 10-12 minutes. However, the dick got busy flirting with another female customer and was asking her out and left if on for about 25 minutes. I heard the entire exchange while in the hallway.

Beyond that being unprofessional my wife now has huge bruises on her back and he said that it's better that he forgot to take it off in time because it will do it's job better. I call bullshit. What do you all think?"
The ancient practice of cupping has been around for centuries, but it has never been scientifically proven to be effective. Like many "alternative" treatments (such as homeopathy), its impacts rely heavily on the power of the placebo effect.
The problem with cupping versus some other "treatments," however, is that it can actually have serious negative side effects. That's according to the federal government's National Center for Complementary and Integrative Health.
Bottom Line

There's been some research on cupping, but most of it is of low quality.

Cupping may help reduce pain, but the evidence for this isn't very strong.

There's not enough high-quality research to allow conclusions to be reached about whether cupping is helpful for other conditions.

Safety

Cupping leaves temporary marks on the skin. The origin of these marks should be explained to health care providers so that they won't be mistaken for signs of physical abuse.

Cupping can cause side effects such as persistent skin discoloration, scars, burns, and infections, and may worsen eczema or psoriasis.

Rare cases of severe side effects have been reported, such as bleeding inside the skull (after cupping on the scalp) and anemia from blood loss (after repeated wet cupping).

Because cupping equipment can become contaminated with blood (intentionally in wet cupping or inadvertently in dry cupping), using the same equipment on more than one person, without sterilization between patients, can spread bloodborne diseases such as hepatitis B and C.
Glen and Diane Sutton say the local chiropractor, John Hood, didn't tell them about the potential bruising before getting started. The cupping took place on Monday, and the process actually hurt her, the couple says.
"She said they still feel weird but not exactly like a regular bruise," Glen told me in a Facebook message.
The Suttons also said they are considering contacting an attorney. The truth is, though, that Diane got off pretty easy in terms of potential harm. That's not to say that what happened was OK — it wasn't — but it's important to note that this process hurts other unlucky people even more.
Yours in Reason,
David Gee