There is no major religious organization that opposes vaccinating against infectious diseases, so why are faith-based exemptions so common throughout the United States? That's the question being asked by experts.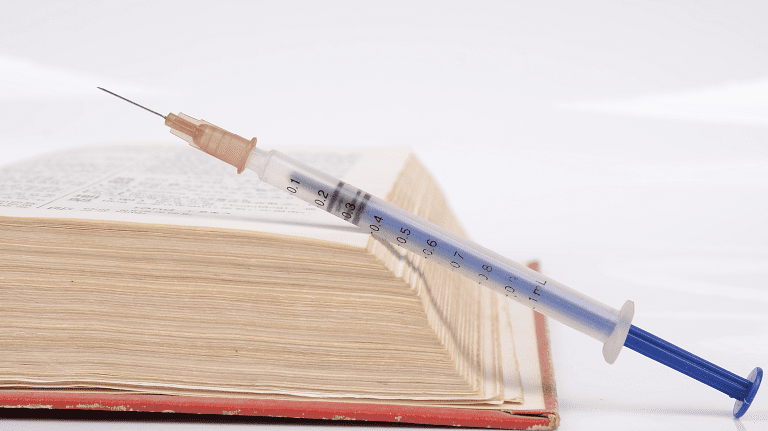 Maine's Senate recently passed a bill preserving its religious exemption for vaccination, which is present in several states and is often abused by those who oppose vaccines for other, unrelated reasons. But some academics and activists are wondering who that's for.
As it turns out, the vast majority of religious groups actively encourage their members to get their life-saving vaccinations, according to the Portland Press Herald.
Catholics, Protestants, Jews and Muslims all encourage their followers to be immunized against communicable diseases such as measles, chickenpox and whooping cough. Small subsets of religions, such as ultra-Orthodox Jews in New York City, may cite religious reasons for not vaccinating, although rabbis in New York have been encouraging the population to immunize. New York City has had at least 423 measles cases since October, according to city public health statistics.

Religion was often cited in the news as a reason for the 2015 measles outbreak in Amish communities in Ohio. But a 2017 scholarly article in the American Journal for Infection Control found that religion was not a major factor among parents who chose to forgo vaccines for their children, but rather misinformation about vaccine safety led to low vaccination rates among the Amish in 2015.
In other words, for most Amish anti-vaxxers, it's not about religion at all. Instead they are falling for vaccine misinformation. This seems to fit with what is being reported by leaders of other religious groups.
Rev. Jim Gertmenian, a retired United Church of Christ pastor from Cumberland, said that mainline Protestant and Catholic church teachings support vaccination. He said using religion as a catch-all reason to avoid vaccines that benefit the health of the community is false logic.

"That would be like saying 'God doesn't want me to obey traffic signals, and that is my sincere religious belief,'" Gertmenian said. "At some point, the state needs to step in for the betterment of the community."
Maine Sen. David Miramant, D-Camden, introduced the exemption amendment to the vaccine bill in his state. It was approved 18-17 by his representative body. He and others say it can still be a religious issue, even if the religions themselves don't weigh in on the issue.
Miramant, the sponsor of the amendment, said in an email Friday night that the religious exemption is important because, for some, there are "reasons that are personal to them and their God. Our Constitution grants the right and freedom of religious practice and I believe we must not start to let others define that intimate connection."
In Maine, the House and Senate must now reconcile differences in their bills, which differ in that the House removed all religious and philosophical exemptions from the law. But this is a debate that transcends that one state, so it's worth exploring what the religions actually say about the issue. In most cases, that's nothing.