A church in Ohio recently made a bold stance against its denomination, placing a pro-LGBT display in response to the global United Methodist Churches' decision to fight against same-sex marriage.
The Lakewood United Methodist Church, which under normal circumstances would fall in line with the larger group's positions platform, decided enough was enough. They placed rainbow-colored doors on their lawn, spelling out the words, "Gods Doors Are Open To All."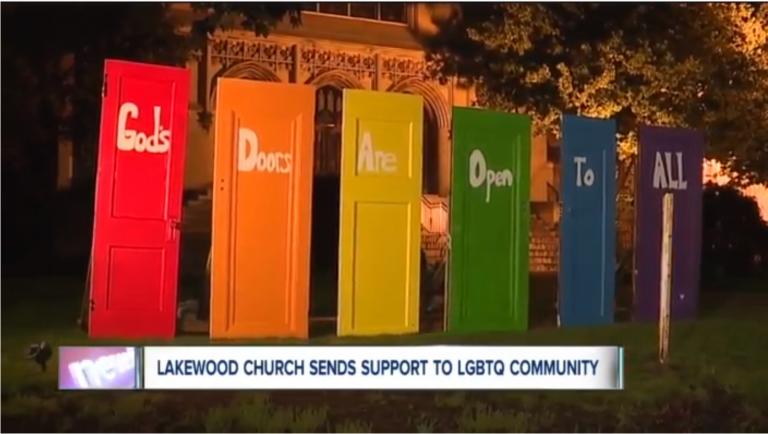 This all happened after the United Methodist Church came out against gay marriage earlier this year, according to local reports.
Reverend Laura Jaissle said the church wanted to make a statement about how they feel.

"The United Methodist church has historically had a statement open hearts, open doors, open minds but recently the global United Methodist church at a general conference had a vote that went counter to our historical understanding. So we at Lakewood UMC are a part of this resistance and will continue to stand for what we believe it right, God's doors are open to all," Jaissle said.

Jaissle spoke with the youth at the church to see how they felt about it and came up with the idea to make the doors.

"We kind of put these doors together as a statement as a church to kind of say hey, God's doors are open to all, especially to our LGBTQ brothers and sisters in Christ. We don't ever want them to feel that god's doors are ever closed on them," Jaissle said.
It looks like there could even be repercussions for this type of protest going forward.
Starting next January, there could be punishments to pastors and congregations that act in disaccord, according to Jaissle.

"We are basically saying we're not that United Methodist church. We're a United Methodist Church that historically goes with their hearts and we're allowing God's grace and love to shine through," Jaissle said.

Jaissle wants the congregation and community to know that they are a church that welcomes all.
It'll be interesting to see if this confrontation leads to any changes within the denomination, or if the individual church will be severely punished.
What do you think about this?