The show that brought you Ray Comfort's infamous "banana man" moment, in which he claimed bananas fit well in our hands therefore God is real, is coming back to TV next month.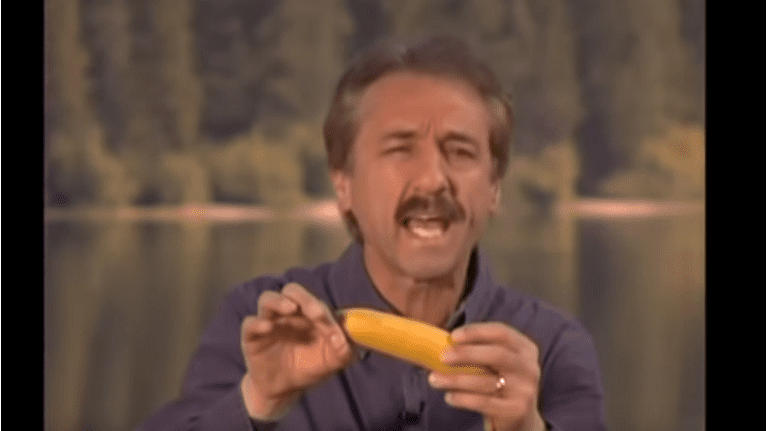 Comfort, a Christian apologist and Creationist originally from New Zealand, announced June 6 that Way of the Master was coming back to TV the week of June 28 after years off the air.
We're thrilled to announce that after years in the making, the new Way of the Master will finally be back on TV the week of 7/28! Season five will be premiering on dozens of channels in over 190 countries…with new episodes every week.

As we get closer to the air date, we'll share with you more trailers, behind-the-scenes pics, and broadcast details, but we're so excited we had to let you know right away.

A huge "Thank you" to all who participated in our crowdfunding campaign and who have supported this effort financially! You helped us build our new TV set, funded segments and episodes, and prayed for God's hand.

Keep your eyes on your emails for exciting updates as we get closer!
The show, which was co-created by Christian actor Kirk Cameron, will return in a new weekly format and be pushed out to faithful followers all around the world. Oh, and that crowdfunding effort they mentioned? They raised $393,003, smashing their $350,000 goal.
According to their website, the show hopes to convince atheists to become Christians.
Co-hosts, popular author Ray Comfort, Emeal ("E.Z.") Zwayne, and Mark Spence, tackle some of the toughest questions about God, the Bible, and hot topics that skeptics and believers alike wrestle with, in a profound and often humorous way. Each episode will leave Christians better equipped to carry the good news out into the world, and sincere skeptics may find themselves doubting their doubts.
Comfort and his co-hosts announced last year that the show would be coming back, but there wasn't a firm date until now. The most important question, however, is yet to be answered:
Will Ray Comfort once again give his self-defeating banana demonstration?