A candidate in the Maine Senate race confirmed to me in an exclusive interview that she also works as a "medium," charging clients to channel messages from dead loved ones.
Longtime activist Betsy Sweet, who just received a big endorsement from the Justice Democrats, admitted that her "Sweet Spirit" business features mediumship for grieving parents. She also tried to distance herself from the word "psychic," and played down language used on her website and in private communications.
"I think when it's colored that way, it makes it sound like I belong in a circus," Sweet said when asked if she was a medium who could bring people messages from family members who have passed away, something she previously advertised on her site. "It's sort of a mis… I don't know what you think I do… I'm not a psychic. It's hard to know what it's actually called."
Sweet added that she operates a facilitator when people are grieving and looking for answers.
"A little piece of my work is when people are stuck or when they request it, to just help them get in touch with what they already feel and know. That's what that work is," she said. "What we do, when someone has a sense or wants to connect with somebody and I get a sense, is I help them connect with the other person. So, it's not like Whoopi Goldberg in the movie where I become that person. It's not that."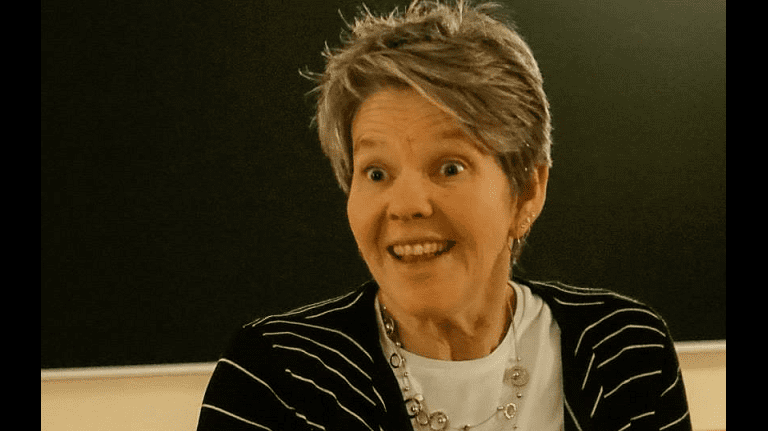 Sweet, who once ran for Governor in Maine and is now hoping to unseat Republican Senator Susan Collins, received a substantial boost in notoriety with her endorsement by the Justice Democrats. That included an interview with The Young Turks, in which her career as a medium wasn't addressed.
Sweet has scrubbed the website for her business as a medium. But an archived version of her page, provided to me by citizen researcher Joshua Stephen Hawley, shows that she offered "gallery readings" in which she said she would "bring you intuitive healing messages from your loved ones and guides."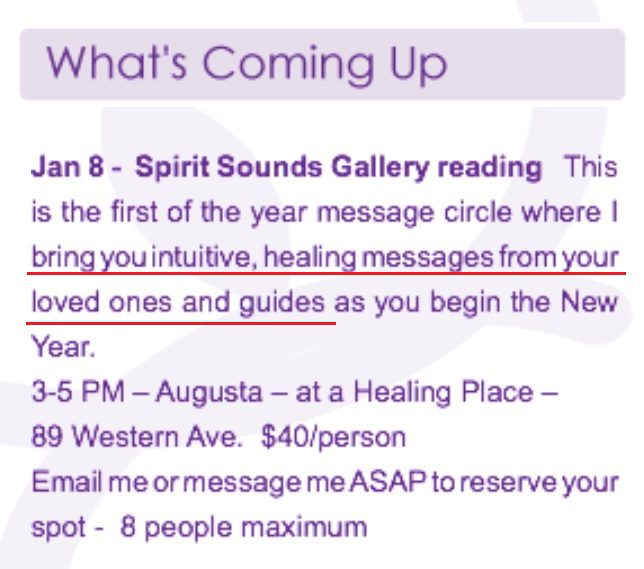 In Sweet's bio, she stated that she has "come to the awareness" that she "can receive messages from loved ones who have passed, and from angels and spirit guides."
"And I want to share it. With you. With everyone," she added.
Sweet also advertised an essential oils workshop, as well as a $250-per-person event involving yoga and meditation.
"The essential oils part of my practice continues to grow," she wrote. "I am amazed at their benefit for physical and emotional health."
Sweet's bio further says that she "went back to school for two years and got a master's degree in Spiritual Psychology." Additional research shows that she claims to have received a "Master's Degree in Spiritual Psychology and Energy Healing" at the University of Santa Monica.
The school is currently unaccredited and it appears to only offer 10-month certificate programs in "spiritual psychology" and "advanced spiritual psychology," but Sweet told me it was accredited at the time of her graduation.
"It was accredited when I graduated in 2009, and then they made a decision in 2011 to no longer seek accreditation," Sweet said. "It was one of the hardest academic and rigorous things I ever did."
Several former graduates of University of Santa Monica have claimed in Yelp reviews that the institution is actually a front for a cult, but Sweet disagreed with that characterization.
"It's definitely not a cult," Sweet said. "There are people who think that anything that is not traditional is a cult."
Social Media Presence
Sweet's "practice," which is called Sweet Spirit, is also advertised on Yelp and Facebook. On Yelp, the business remains listed under the "counseling & mental health, life coach" section and links to betsysweet.com, which serves as a landing page for Sweet's Senate campaign.
The Facebook page for Sweet Spirit is still active, as well, and the biography section describes her as a medium:
Sweet Spirit is an intuitive healing and coaching practice that helps you get unstuck without coming unglued! Betsy offers tools and guidance for you to access your own strength and wisdom as you access the joy that is already inside of you. Services include individual sessions for all ages, group classes, message circles, employee assistance programs, and other services structured to meet individuals and employers needs. Tools offered include guided conversation, life coaching, energy balancing, chakra reading, reikki, letting go of things that no longer serve you, mediumship and meditation.
On June 15, just last month, Sweet's Facebook was updated to add a section with the same wording but without the language about being a medium.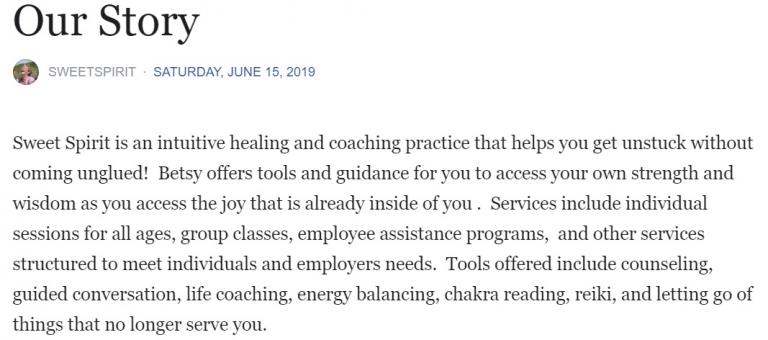 Citizen Question
Hawley, a resident of Maine, asked Sweet about her beliefs in December 2017 when she was hoping to be governor of the state. In a screenshot, she can be seen distancing herself from her claims of being a medium when asked if she can really speak to the dead.
"I believe everyone is looking to connect with something bigger than ourselves. The work I do is I think it is no different than anyone who calls upon angels or saints as is done in all religions. I am not a psychic or anything like that, but help people access the wisdom and love they have had passed on to them," she wrote in the Facebook message.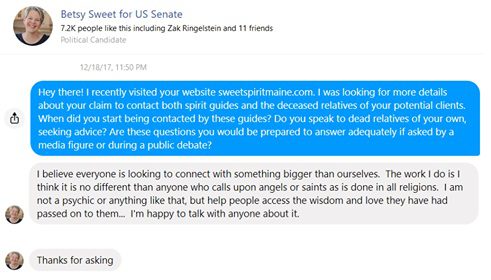 Hawley pressed Sweet on the mediumship issue, and she said, "perhaps it is semantics and I should reexamine my site…"

In a response dated Jan. 10, 2018, Sweet ultimately admitted that she does get "messages from people who have passed." She adds that she doesn't "call up" the spirits, or channel them.
Hawley also contacted Representative Michael A. Sylvester, a fellow democrat in Maine, asking if the official had ethical concerns with Sweet's stated profession. He apparently did not.
"I believe Betsy believes it so it doesn't concern me in the same way that if I thought she was intentionally defrauding someone," Sylvester wrote.
Sweet is currently campaigning against Maine House Speaker Sara Gideon in the primary race to see who will face off against Collins, so voters in the state may start asking questions about her mediumship and graduate education. If you have further information on this issue, please contact us at nosacredcowstips@gmail.com.