In a bittersweet twist, younger generations are trending away from archaic religious dogma and toward… a less violent form of nonsense.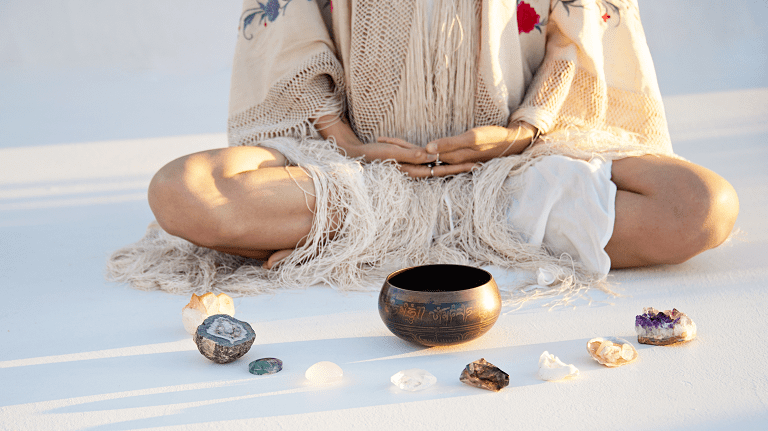 The Los Angeles Times recently profiled a woman named Lilia, a "breathwork" practitioner who gets paid to basically help people meditate.
She's one of a growing number of young people — largely millennials, though the trend extends to younger Gen Xers, now cresting 40, and down to Gen Z, the oldest of whom are freshly minted college grads — who have turned away from traditional organized religion and are embracing more spiritual beliefs and practices like tarot, astrology, meditation, energy healing and crystals.

And no, they don't particularly care if you think it's "woo-woo" or weird. Most millennials claim to not take any of it too seriously themselves. They dabble, they find what they like, they take what works for them and leave the rest. Evoking consternation from buttoned-up outsiders is far from a drawback — it's a fringe benefit.

"I know this work is weird," Lilia said of her breathwork practice. "But it makes me feel better and that's why I keep doing it."
Believe it or not, I don't oppose this. We should be moving away from fundamentalist adherence to ancient dogmas, and more toward this type of relaxed take-what-works-and-drop-the-rest approach. And if you can make yourself feel better without hurting anyone, I say you should go for it.
But I'm also not going to pretend like all these practices are truly beneficial to society, or that they are more effective than a simple sugar pill. In fact, some of these New Age ideas – such as astrology, tarot, and healing crystals – have been debunked many times.
Whether the trend toward non-religious woo is good or bad, it is happening. And there are several factors involved, according to the Los Angeles Times.
In more than a dozen interviews for this story with people ranging in age from 18 to their early 40s, a common theme emerged: They were raised with one set of religious beliefs — Catholic, Jewish, Buddhist — but as they became adults, they felt that faith didn't completely represent who they were or what they believed.

Millennials increasingly identify as "nones" when asked about their religious affiliation, according to a 2017 Pew survey: They are atheist or agnostic, or say they are "spiritual but not religious."
It's also worth noting that this trend isn't actually new. This is something I wrote about in No Sacred Cows: Investigating Myths, Cults, and the Supernatural, which was published in October of 2017. This is directly from the book's description:
While belief in religious supernatural claims is waning throughout the West, evidence suggests belief in nonreligious supernatural claims is on the rise. What explains this contradiction? How can a society with a falling belief in God have a rising belief in ghosts, psychic powers, ancient astronauts, and other supernatural or pseudo-scientific phenomena? Taking the same anthropological approach he employed in his notable studies of religion, atheist author and activist David G. McAfee turns his attention to nonreligious faith-based claims. Whether going undercover as a medium, getting tested at Scientology headquarters in Los Angeles, or interviewing celebrity paranormalists and famous skeptics, he leaves no stone unturned in his investigation. As in the case of religion, he finds an unwillingness among "believers" to critically examine their most closely held convictions. Only once individuals honestly assess their own sacred cows will they be able to ensure that their beliefs conform to the known facts—and that our decisions as a society are based on the best available evidence.
I'm not saying choosing New Age quackery over religion is a bad thing, but there is certainly a lot of work to do.