California State Senator Richard Pan (D.) was assaulted on the sidewalk by an anti-vax activist who once ran for that very same political position, prompting a citation from local authorities.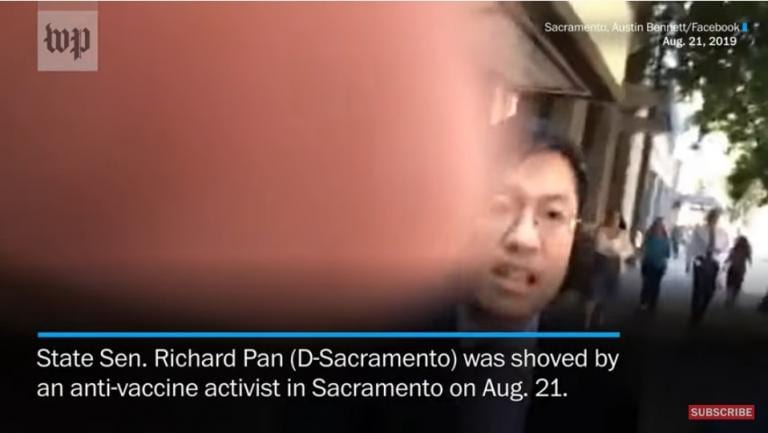 Pan, who wrote California's strict vaccine law, was pushed from behind by Kenneth Austin Bennett, whose bio on Facebook says he is serving the "king of kings." Bennett, also a chemtrail believer, had previously challenged Pan but failed to qualify for the general election.
Bennett is strongly against vaccines, and Pan has written legislation to reduce the number of improper exemptions for life-saving inoculations. Bennett has reportedly been fighting to recall Pan since his failed election bid.
Bennett's longstanding political grudge boiled over in the form of a shove, which he decided to livestream on Facebook.
Bennett filed a recall petition against Pan this year alleging the senator was committing treason by authoring bills to tighten vaccination requirements in the state.

A video Bennett posted to Facebook shows he confronted Pan near the state Capitol and was livestreaming when he struck him. Afterward, Bennett said on the video that "I probably shouldn't have done that." The Sacramento Police Department said Bennett was cited for assault and released.
Bennett didn't just livestream the push; he also admitted to the action when he posted the video, saying in a caption, "yes, I pushed Richard Pan for lying, laughing at us and for treason."
He added in the video that if Pan "Got what he deserved he would be hanged for treason for assaulting children, for misrepresenting the truth."

Pan spokeswoman Shannan Velayas said the senator has been routinely targeted by anti-vaccine activists since he introduced a bill in 2015 that created strict vaccine requirements for schoolchildren. Pan is carrying a bill that would further tighten California's vaccine laws, prompting a new round of threats.
So, the question is, does Bennett regret his actions in any way? According to his Facebook page, he does not.
In light of the overwhelming fallout for pushing Senator Pan, the tremendous pushback, attacks, threats, family disappointment, national attention, I have these words to say…

I do not regret it, glad for it and will make no apology for it.
In another post just yesterday, Bennett said his anti-vax platform has "expanded" and cast the unprovoked push as a win for the entire community.
He has also said that those who oppose his actions are part of a "controlled opposition" plan, and called those who disagree with him "sheeple."
In his latest livestream, Bennett tries to change the subject by discussing a serious issue: the danger of s0-called chemtrails.
"We can not tolerate the chemtrails that are being sprayed," he said Monday. "We are being mass sprayed every single day… the skies may be blue but they're not normal."
Pan has said Facebook should remove the video, but so far the social media giant has refused to do so.