You don't see a headline like this one every day.
A "psychic" and self-described pirate from my hometown of Sacramento has been charged with stabbing a man outside a bar and fleeing the state before being tracked down by his own ex-girlfriend.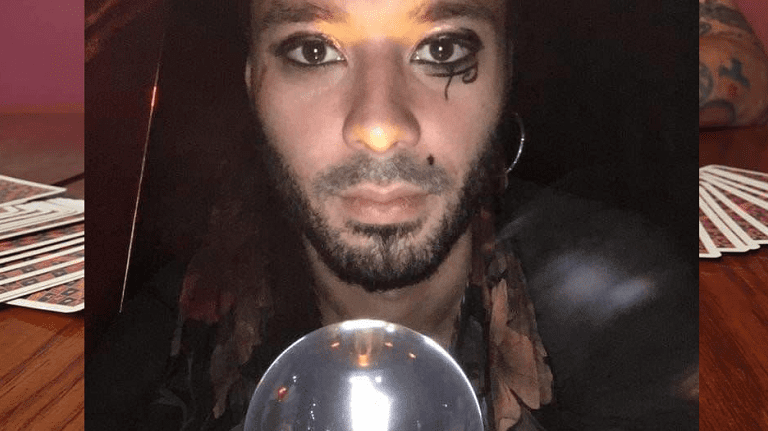 The so-called psychic goes by the name of Jarret "Smash" Pena, and he has been advertising his services as a fortune-teller since 2016. Yet he didn't anticipate that Jamie Odam, a girl he met on OKCupid, would be his undoing.
Pena had been at a bar with Odam when he allegedly stabbed a good Samaritan outside the establishment.
At the bar, Odam said, Pena played pool while she struck up a conversation with another man. Pena eventually returned and asked Odam if she was ready to leave. She said she told him she wasn't. She said Pena asked if she would unlock her car so he could get his belongings. She said she told him he'd have to wait until she finished her drink.

Odam said Pena grabbed her wrists, her new acquaintance came between them and Pena threw the first punch. The ensuing fight got them all kicked out of the bar, Odam said.

Odam said she didn't see the stabbing. After she unlocked her car and Pena grabbed his stuff, she said the next thing she saw was Pena skateboarding away.

"I turned around and all of a sudden [the victim] holds his hand up and there's blood all over his hand," Odam said. "My world started spinning."
Pena escaped that night and left the state, predicting he could evade police, but he was undoubtedly wrong. He didn't account for the fact that Odam would hunt him down.
It's fitting that Jamie Odam was the first to report to her Facebook friends that Jarret Pena was in custody in the state of Washington. After all, ever since last month's stabbing, she had been on a crusade to make sure the man she met online ended up in handcuffs.

"I've been on this wild goose chase," she told SN&R on July 17, eight days after police found a man with numerous stab wounds outside the Lavender District bar. "This spread like wildfire."
I actually talked to Odam on July 13, when she was still on the hunt. Her social media posts led to people tracking him via Facebook GPS, and she shared with me details about her own investigation.
She was especially excited when police issued a warrant for the alleged stabbing.
The Sacramento News & Review (SN&R) story did a good job of covering the alleged stabbing, as well as Pena's past as an unsuccessful "pickup artist" who recommended that men "neg" or insult women to get dates. But it looks like there may be even more to this crazy story.
For instance, one commenter on a Facebook post about Pena said they "literally had to call a Lyft for a drunk chick to get away from him." Another responded saying, "He tried so hard one night to separate me from my friends. I was not having it."
Yet another said the following:
"Omg! This guy KEPT showing up at [redacted] and creeping on all the dancers (like stalk/touching/disgusting comments) and we were trying to get him banned! … He followed me around the badlands for a whole night and would come up behind me, breathing on my neck and tell[ing] me I smelled good."
There were several other similar comments on each post about Pena from Odam, and even a public post warning women about him. That dates back to last year.
There are lots of allegations, yet there's no further information on whether he will also be charged for anything related to harassment.
Either way, it's clear he didn't see his arrest coming.