A young woman reportedly fell 80 feet from a sixth-floor balcony in Mexico while performing so-called "extreme yoga," resulting in 110 broken bones and 11 hours of surgery.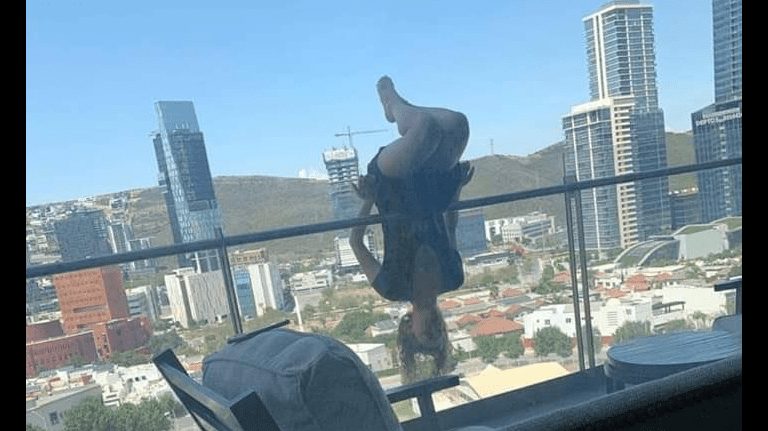 The 23-year-old college student, identified by local media as Alexa Terrazas, decided to get a picture of herself doing some free yoga on the elevated terrace. A photo seemingly snapped prior to the fall has gone viral on Twitter.
LLEVA AL EXTREMO
PRÁCTICA DEL YOGA
Al practicar un tipo de yoga al extremo, una joven de San Pedro cayó desde el balcón de su depa a 25 metros de altura.
Alexa Terrazas tiene 110 huesos rotos. Le tienen que reconstruir tobillos, rodillas, cara etc. y no caminará en 3 años. pic.twitter.com/0ftoHPcMCa

— JavoRayado (@javierehdz) August 27, 2019
The incident following the photo was incredibly devastating, according to
media reports
.
After the picture was taken, the woman fell from the apartment balcony and broke both of her legs, as well as suffered fractures to her arms, hips and head, El Universal reported.

According to the publication, the woman, living in San Pedro in Nuevo Leon, broke 110 bones and underwent 11 hours of surgery following the fall. She will face years of recovery.

The Nuevo Leon Attorney General's Office investigated the fall and found the guard rail did not have structural damages, local outlets reported.

It was not known if the woman had performed the risky stunt before.
First, let me just say that "stunt" would be a more appropriate term to describe this particular activity than "yoga." Yoga is linked to and derived from Hindu spiritual practices, while this appears to have been a like-trap for Instagram.
Regardless of how it happened or what this is called, I am happy this woman survived and I'm wishing her a speedy recovery.