There are only a few people protecting uncontacted tribes in the Amazon, and one of them was recently assassinated, according to co-workers.
Maxciel Pareira dos Santos was reportedly killed because of his work to protect isolated tribes in far western Brazil, an act that activists say puts the local tribes at risk. Santos was a longtime employee of FUNAI, or the National Indian Foundation, which is the Brazilian government body in charge of indigenous peoples.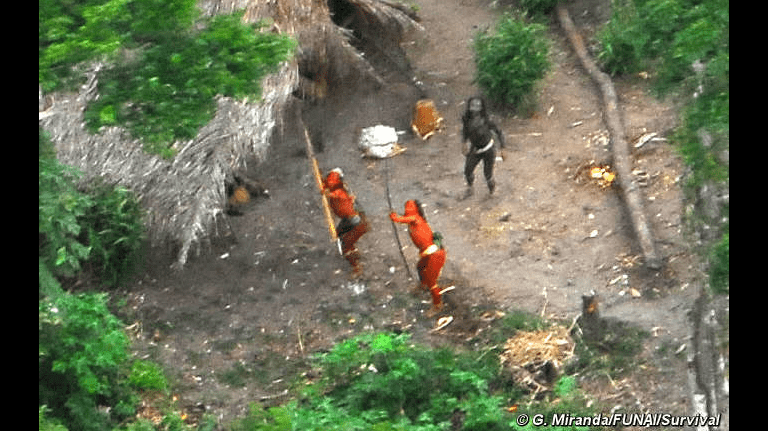 The murder of Santos has sounded alarms for locals who worry about increasing invasions that threaten lives, National Geographic reports.
The worker, Maxciel Pareira dos Santos, was shot and killed on September 6 by an unidentified hit man riding on the back of a motorbike along the main street of Tabatinga, a frontier city near sprawling Javari Valley Indigenous Territory. The protected area harbors the largest concentration of uncontacted and isolated tribes in the world.

Santos had worked for 12 years for Brazil's indigenous affairs agency, FUNAI, manning a strategic outpost where two rivers lead into the depths of the 33,000-square-mile reserve, with its estimated 5,000 indigenous inhabitants. The post and its handful of personnel are all that stand between Javari's rich biodiversity and a potential flood of newly emboldened timber and wildlife poachers.

The checkpoint has come under armed attack by would-be intruders five times since the beginning of the year, most recently on September 21.
The killing comes at a particularly bad time for the Brazilian Amazon, where poachers of all kinds are threatening the way of life of isolated peoples. The area is fending off drug traffickers,
fires
, and people trying to unethically mine valuable natural resources.
In fact, more aggressive outsiders made their way into these sacred Amazonian areas this year than in 2018, according to locals who track the data.
"All this puts the isolated tribes at heightened risk, forcing them into a constant flight from the talons of these groups," said Roque Paloschi, archbishop of Porto Velho, Rondônia and president of the Catholic rights group Indigenist Missionary Council. The group reported this week that invasions have increased from 111 in 76 indigenous lands in all of 2018 to 160 in 153 indigenous territories in the first eight months of this year.

"What will be their fate?" Antenor Vaz, a lifelong FUNAI field agent who now consults on issues relating to isolated tribes, wrote last month in an online post. "How many groups living in isolation have already been stricken?"
Santos was reportedly known for advocating for indigenous people, and didn't back down due to danger, according to those who knew him. His death has caused great concern for many.
Santos, affectionately called Maxi by Javari's indigenous people, was a highly regarded friend with an exemplary work ethic who persevered in the face of danger, according to Marubo. Co-workers and indigenous leaders are calling his killing an "assassination" connected to his dedication to protecting the territory and its native inhabitants.

The incident has stirred deep unease. "It has created an atmosphere of trepidation," said Marubo, "that if you work for indigenous rights or the environment or human rights the same thing could happen to you."
For those working to protect the Amazon and its untouched inhabitants, this incident is more than just another unwarranted killing. To them, this is a sign of the times, and perhaps of what's to come.