A transgender rights activist who is scared of needles went viral this month after she got a flu shot in honor of her friend James, who recently died of cystic fibrosis after he got the flu.­­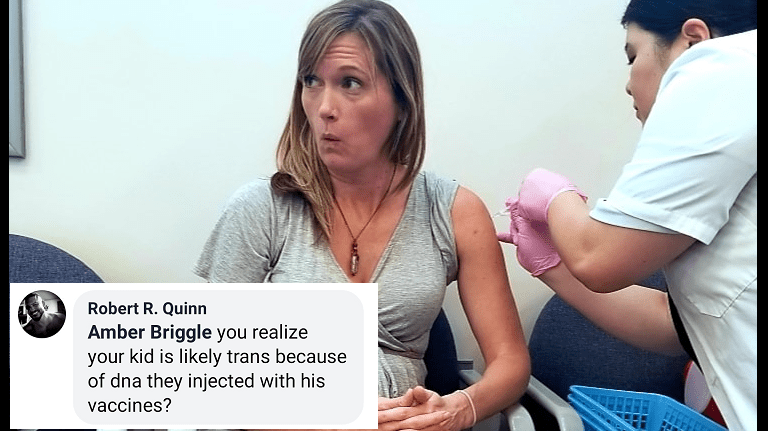 Amber Briggle, a writer with a trans son, was criticized by vaccine opponents after she posted about her deceased friend. James, who relied on herd immunity, passed away after being exposed to the flu by someone who didn't get vaccinated, according to Briggle's post on Facebook.
I hate getting shots. But I owe it to James.

My friend James died last week of cystic fibrosis. He was the toughest sonofagun I've ever known. He got his first double lung transplant when he was in his 20s and those lungs kept him alive for more than a decade. He fell in love, got married, and had a son.

Last winter he got the flu. He couldn't get a flu shot because he was immunocompromised, so he was counting on the rest of us to keep him healthy. Someone didn't get that shot, got the flu, exposed James, and he got sick.
The flu was so bad that his lungs began to fail. But being the lucky, amazing, walking, fighting miracle that he is, he was able to get a second lung transplant last spring. The procedure was more complicated, though, and his body began rejecting his new lungs. He fought as long and as hard as he could to stay alive.

He died last week and leaves behind a wife, a 3 year old son, and a world full of friends who miss him deeply.

Thanks to organ donation, James lived another 15 years. And thanks to folks getting vaccinations, we were all able to keep him healthy for so long.

Get your flu shot, y'all. It might hurt, but it doesn't hurt nearly as much as losing someone you love.
Briggle received hateful comments from opponents of the flu shot, as evidenced by a lengthy reply left in the comments to "anti-vaxxers."
Okay, hi, anti-vaxxers. Just a little introduction since y'all seem super interested in this post:

If this was any other post about getting a flu shot, I'd probably let your comments stick around. Because I really have better things to do than delete and block you and your tinfoil hats all day.

But this post is entirely about my friend James, and making sure that people like him have a decent shot at sticking around as long as possible. That's why I think it's important that the people who CAN get a flu shot DO get a flu shot.

So when you get on here with your anti-vaxx conspiracy theories and your pretend medical degrees from Google University and your mothereffing semantics about how he did or didn't get the flu, imma block that shit. Because James deserves better than that.
One person even suggested her son was trans because of his vaccinations.
There was no evidence presented in support of the claim.