A Missouri man started a GoFundMe page to raise money for legal fees to help stop his ex-wife from forcing their two autistic sons to drink a form of bleach called "Miracle Mineral Solution" as a purported "cure." So far, the father has only raised $175 of the $7,500 goal.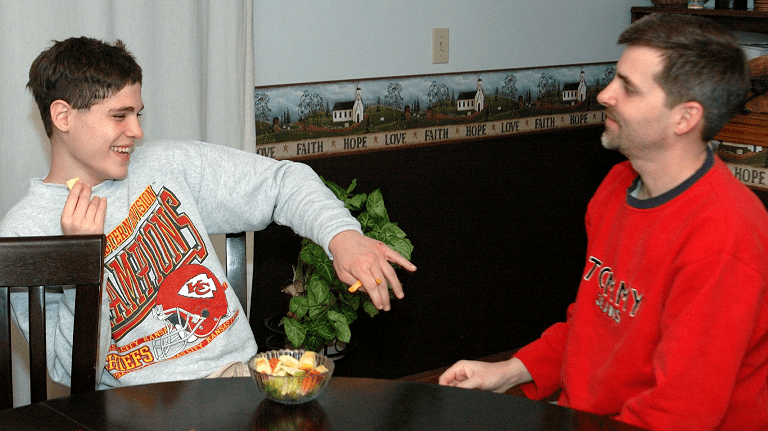 We covered this dispute earlier this month, when it was reported that Laurel Austin was regularly giving the bleach product to her two adult autistic kids. We mentioned at the time that the father of the kids, Brad Austin, wanted his ex-wife to stop "poisoning" their helpless sons.
What we didn't note, because we didn't see it until days later, is that Brad is raising money to end Laurel's practice of giving their kids the potentially dangerous mixture. He hasn't reached his goal yet, but he does seem to know his stuff when it comes to the science issues. [It's worth noting that Laurel's GoFundMe has raised more than $7,000.]
My two autistic sons, Joshua and Jeremy Austin, are being given a substance well known and documented to be dangerous and potentially fatal, as treatment for their autism. This substance is chlorine dioxide, an industrial strength bleaching agent, at a level 3,000 times higher than the amount regarded as safe by the EPA. At 28% Sodium Chlorite, this substance is incredibly caustic, damaging, and can cause horrible side effects when ingested.

The FDA has issued warnings about the dangers of the MMS protocol in 2010, and again in 2019.
As Brad explains, his wife is getting help from Kerri Rivera, who has previously been exposed for offering to treat autism with the controversial bleaching agent. In 2015, she signed an agreement promising not to promote MMS in Illinois. The dangerous "protocol" is also used to "cure" HIV, malaria, cancer, and other ailments, according to proponents.
In Brad's plea for help, he also notes that this "MMS therapy" was created by a Scientologist. This is something that is confirmed by reports.
Brad says his ex-wife never told him their sons were drinking the bleach solution; he only found out through observation.
On January 4, 2019, my son Joshua came to our home for his monthly visitation. On recent visits, Joshua brought with him a blue 16oz water bottle, and stored this in the refrigerator. Coming upstairs every few hours, he poured himself a shot glass full and drank it down, then quickly returned to his Super Nintendo games. On January 4th, we discovered that this substance was in fact bleach, and this is what he had been taking for his "protocol". Opening the container, the smell was so strong, we immediately contacted Poison Control. We were then informed that even if Joshua was exhibiting symptoms like vomiting and bloody stool, there is no test or treatment for bleach consumption aside from an endoscopy. Bleach cannot be detected on a blood panel. They then recommended we call the police for an investigation.

After contacting the Lenexa Police Department, officers were dispatched to the home that night. They then dropped the investigation, citing a doctors note from KU MED.
It's important to mention that, although Brad hasn't seen Jeremy since that incident in January, we do know that Laurel is still active in the MMS community. She is open about the MMS "treatments" she gives her kids, posting about it on YouTube as recently as last week. She also includes God and religion in her online postings.
Laurel has criticized reporters for saying she poisons her kids with bleach, but the FDA's most recent warning echoes those same sentiments.
The U.S. Food and Drug Administration is warning consumers not to purchase or drink a product sold online as a medical treatment due to a recent rise in reported health issues. Since 2010, the FDA has warnedExternal Link Disclaimer consumers about the dangers of Miracle or Master Mineral Solution, Miracle Mineral Supplement, MMS, Chlorine Dioxide (CD) Protocol, Water Purification Solution (WPS) and other similar products. Miracle Mineral Solution has not been approved by the FDA for any use, but these products continue to be promoted on social media as a remedy for treating autism, cancer, HIV/AIDS, hepatitis and flu, among other conditions. However, the solution, when mixed, develops into a dangerous bleach which has caused serious and potentially life-threatening side effects.
Ingesting MMS "is the same as drinking bleach," FDA Acting Commissioner Ned Sharpless, M.D., said at the time.
Brad said his ex-wife's doctor's note came originally from the University of Kansas Health System, but that it had since been rescinded. He also said an ethics investigation was launched into Singh, but the health system declined to comment.