A Kansas megachurch pastor estimates that his denomination, United Methodist Church, could lose between 3,400 and 7,500 congregations in a year thanks to an internal debate about the sect's anti-LGBTQ+ policies.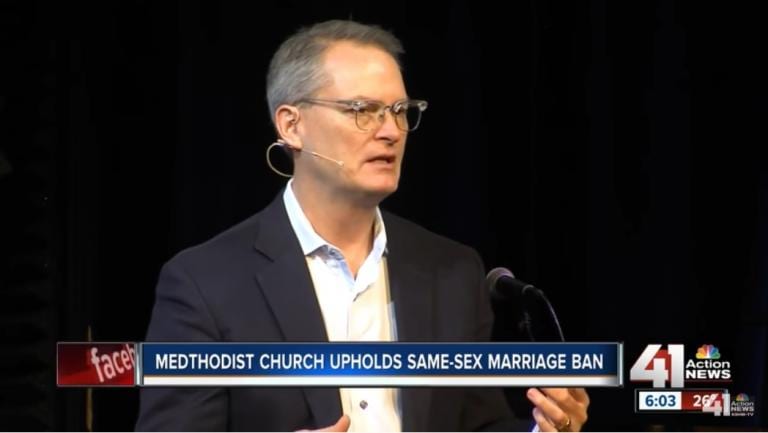 Pastor Adam Hamilton, who leads the largest UMC church in the country, made the comments at a major church event last month. The gathering came after the congregation voted to maintain its opposition to same-sex marriage and gay people serving as clergy.
Hamilton said in his speech that the debate could significantly cut the number of UMC congregations down from 34,000 in just a year, the Christian Post reported Tuesday.
"A year from now, we will not be the same church that we are today," he predicted, alluding to the UMC General Conference scheduled for next year, which will debate possible changes to the denomination's position on LGBT issues.

Hamilton told those gathered that after the General Conference next May, there will be "between 3,400 and 7,500 less churches" in the UMC by this time next year.
Hamilton even elaborated upon his logic for the estimate of churches that will be lost.
In explaining his estimate, Hamilton reasoned that between 3,400 and 6,800 congregations will leave the UMC in protest to join a new theologically conservative denomination while another 300 to 1,000 churches will decide that the denomination is not inclusive enough.

"So we'll lose 3,400 to 6,800 on one side and maybe 300 to 1,000 churches on the other side," explained Hamilton, who admitted that this was "just a guess."

"That will leave, though, I think, 27-28,000 United Methodist churches. And the question is what will we become?"
Hamilton, who opposes the massive religious group's current stance on issues related to the LGBTQ+ community, also said he believes the language that is "harmful to human beings" will be changed as early as next year.
Hamilton had previously supported a plan that would have allowed individual UMC churches to determine their own stances on gay clergy and same-sex marriages.
During the speech, he encouraged unity among followers despite his belief that the congregation will be majorly fractured.
Hamilton urged cooperation and unity among conservatives, progressives and centrists in the UMC.

"If we're conservative without being liberal, we're stuck," he said. "And if we're liberal without being conservative, we're unmoored."

"At Church of the Resurrection, we have Republicans and Democrats. We have the same people running for office against each other and they're members of the same congregation. There's something beautiful about that."
Only time will tell if Hamilton is right about the possibly massive church departures, but one thing is for sure: if that does happen, the denomination will be facing entirely new challenges in a shifting landscape.