Atheist activist David Silverman, the former head of American Atheists known as a "firebrand" due to his vocal opposition to theism, is embroiled in yet another inappropriate touching scandal after his return to leadership within the atheist community.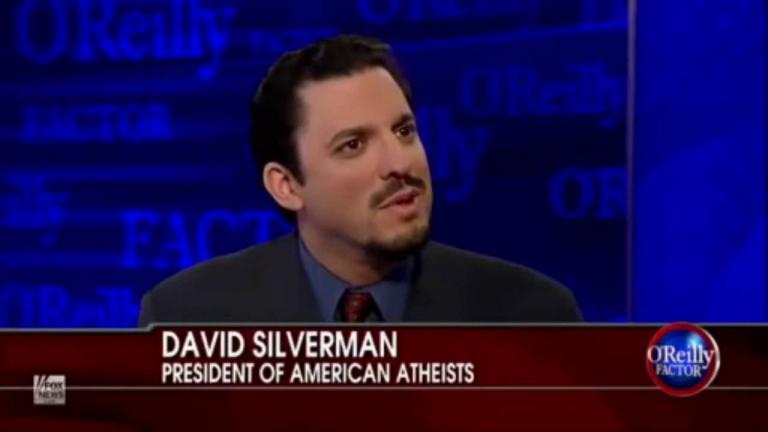 Silverman, the man from the Bill O'Reilly meme who recently returned to public activism as Executive Director of Atheist Alliance International, is now facing criticism for allegedly violating the bodily autonomy of another atheist celebrity turned into a popular meme: Rebecca Vitsmun. You may remember Rebecca as being the tornado survivor who rendered Wolf Blitzer speechless when he asked if she thanked God and she said, "I'm actually an Atheist." She is also known for her work with Humanist Disaster Recovery Teams.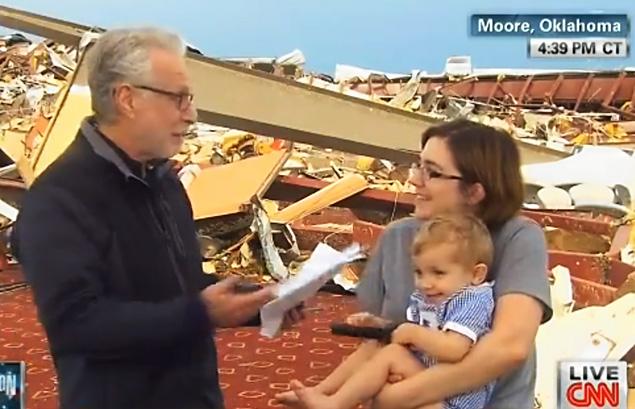 Vitsmun says Silverman, who was fired from his position at American Atheists after he was accused of forcing himself on one woman and using his position to pressure another woman into sex, caressed the small of her back at a gathering of like-minded non-believers on Nov. 2. That was less than a month after the Friendly Atheist reported that Silverman joined Atheist Alliance International.
On Dec. 3, a month after the alleged incident, Vitsmun posted that Silverman had "creepy-touched" her at a party.
"He caressed the small of my back, where I have nerve damage I am currently in PT for, while I was bending over to get my shoes," she posted on Facebook.
She says Silverman escalated the incident by trying to convince her not to talk about it, or otherwise "connect it to his name."
"He connected it to his name when he did it," she posted Tuesday. "He also connected his attempt to silence me to his name when he did that."
He also thanked Vitsmun for "not being evil" when she didn't immediately broadcast the event to the public, according to her post.
"I made sure to inform David Silverman that evil does not exist and it's not okay to use that kind of language to silence someone you violated," she wrote on Facebook. "My therapist said this is predatory behavior and that grooming behaviors start with these types of autonomy violations. She also said I do not even remotely owe him silence."
Vitsmun also released a series of recordings made that detail the allegations, dating to two days after the alleged incident, and screenshots that seemingly indicate something happening that made him feel "all sorts of bad." When she invited him to do a podcast and talk about the incident in a positive, forward-looking manner, he said, "I feel terrible for what happened but that will definitely be taken the wrong way and used against me."
"There is no way for me to walk away alive," he said. "And my guilt and shame is off the charts."
He added that "anything new" against him would "kill" his career.
"This would do that. I mean, that's suicide," he said according to the screengrabs. "Jesus my life is so damn fragile."
In another series of screenshots, Silverman appears to be talking to Vitsmun's partner. In those messages, it looks like he says she wants to "ruin a good man for a power play."
"Shame on the both of you," Silverman appears to say Dec. 3. "She nuked me by name for touching her back after I apologized."
The messages also show what looks like Silverman saying that she had no right to talk about the incident, or talk about him, period.
"I'm allowed to keep my private mistakes private. I'm allowed to go through my process in my speed and come forward when I'm fucking ready," the screenshot says. "I'm allowed to make tiny mistakes and not have them broadcast to those who would (now will) twist them into something worse."
The screenshot shows Silverman saying that Vitsmun "had no right to make decisions about my brain without me."
Neither Silverman nor Atheist Alliance International immediately responded to my requests for comment on Dec. 7.
***UPDATE*** Atheist Alliance International has suspended Silverman pending an investigation into the incident. More info here.