Actress Gwyneth Paltrow, who created popular high-end lifestyle and pseudoscience brand Goop, famous for its vaginal jade eggs, just deleted a tweet in which she flaunted expensive designer shoes and clothes during the coronavirus pandemic.
Paltrow, who started using misleading scientific labels to appear legit in June 2018, posted about a $1,000 outfit on Instagram as the world grapples with a pandemic that the U.S. Centers for Disease Control and Prevention says could infect up to 214 million Americans without proper methods of organized intervention.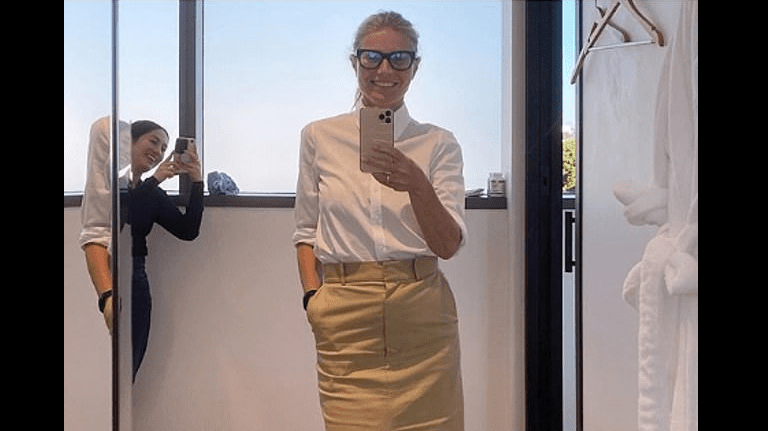 Paltrow posted the ad on Instagram, but deleted it after online criticisms, according to Page Six.
The Oscar winner posed in a simple white shirt, khaki skirt and sneakers for a since-deleted post on her Goop Instagram page on Friday, with the caption: "Most days you'll find GP wearing G.Label with a pair of sneakers—which is one reason we make it an annual tradition to put together a fresh sneaker guide each year. Get ready to cover some serious ground (run, don't walk)."

Her fervent followers, however, were less than happy as soon as the post went up, with one writing, "I think it's irresponsible to post this as a world-wide pandemic is going on. You have a great platform around health. Now would be the time to expand on it."

Another said, "Come on goop, when you said GP, I thought at first you were referring to Dr. Please use your platform in a more sensitive way … I really don't think it's the time to think about buying trainers when people are struggling to buy day to day supplies. We don't want doom and gloom, but maybe a post on boosting your immune system, staying healthy etc…"

Paltrow's outfit was comprised of a G. Label "Alexander" slit trouser skirt costing $450, and Alexandre Berman's "Clarita" sneakers at $425.

Among the 145 comments on the post, another added: "We're in the middle of a world-wide pandemic, y'all really think anyone's gonna buy an ugly a–s $450 skirt?"
While some people called the tweet "irresponsible," I think another criticism was even more relevant: tone-deafness. I think Paltrow lives in a world that is much different than those of the average individual, and her company clearly reflects that perspective. She could have been more sensitive to those who are scared.
It only took one ill-timed social media post for a lot of Paltrow fans to see that health and wellness might not be the #1 priority for Goop.